Ministry of Agriculture, Fisheries and Cooperatives Boasts Considerable Improvements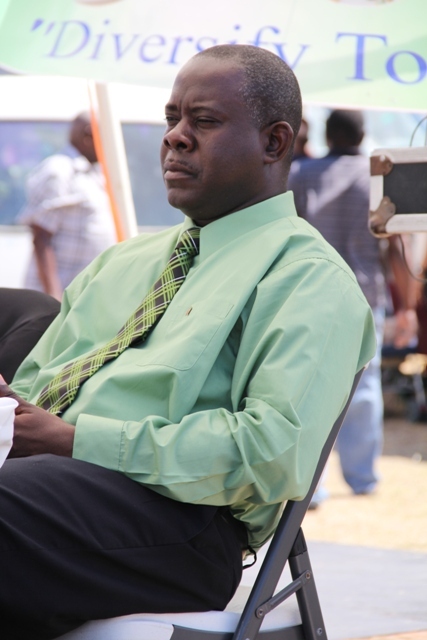 Minister of Agriculture, Fisheries and Cooperatives in the Nevis Island Administration the Honourable E. Robelto Hector.
NIA-CHARLESTOWN, NEVIS (April 11TH, 2011) — The phrase "Agriculture is everyone's business" proved true on Mar. 24 and 25 when hundreds of Nevisians gathered at the Villa Grounds in Charlestown to witness the 17th annual Agriculture Open Day.
Among the issues highlighted by Minister of Agriculture, Fisheries and Cooperatives, the Honourable E. Robelto Hector, were the increased establishment of cooperatives and the major improvements in Nevis' agricultural sector.
The Cooperative Department, he said, "continues to ensure the theme: diversify to satisfy is achieved."
"It is a fact that we have relied on our cooperative division to promote new direction for most of our groups here on the island. I want to congratulate the Cooperative Department and the Bellevue International Primary School where another society was launched," Minister Hector said, adding that there was need to "instill cooperative education among schools."
This, he said, "would strengthen thrift and industry in the society."
"The major improvements in agriculture," as explained by Minister Hector, included considerable investment in the fisheries sector.
With plans in place for the construction of the Charlestown Fisheries Complex, the agriculture official recorded his gratitude to the businesses and organisations that had been instrumental in the planning stage.
Among the businesses mentioned was the St. Kitts Nevis and Anguilla Trading and Development Company Limited [TDC] for "willingly consenting to exchange the land in the area chosen so that the project can go forward."
The project, Mr. Hector said, would bring considerable benefits to Nevis including the presence of "fish processing facilities, lockers for the fishermen, a refueling station and value added products."
The value added products, he explained, "can take us beyond that frontier of the export market": an issue he addressed with passion.
The project is jointly funded by the Nevis Island Administration [NIA] and the Japanese International Cooperative Agency [JICA].
Mr. Hector also used the opportunity to highlight the areas through which $1.5 million worth of incentives and subsidies were given, by his ministry, "to assist farmers over the last four years."
The incentives, he said, included "farm inputs; water for irrigation; animal feed; seeds and seedlings; fencing wire; fishing gears; land preparation; and abattoir, extension and veterinary services.
His ministry's capital budget, Minister Hector said, "reflects considerable spending in a number of areas." The areas mentioned included the lethal yellowing, animal control and cotton development programmes; the purchase of a mulcher; the small farm equipment home; and the upgrades on the public market, extension service and marketing unit.
While the lethal yellowing programme was initiated to "save the coconut industry," almost $1 million was spent on agro-processing, Minister Hector said.