MUA honours Nevis Deputy Premier Brantley for his invaluable help and vision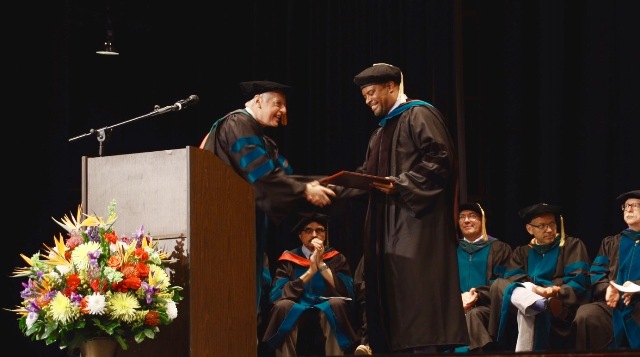 NIA CHARLESTOWN NEVIS (JUNE 06, 2017) — Deputy Premier of Nevis Hon. Mark Brantley, was honoured by the Medical University of the Americas (MUA) with an honorary degree on June 03, 2017, in appreciation and a show of gratitude for his invaluable help and vision to the facility's campus in Nevis.
The honorary Doctor of Laws degree was bestowed on an unsuspecting Mr. Brantley, by Dr. John P. Docherty, Chairman of the Board of Trustees of the MUA and the Saba University of Medicine, at their Commencement Ceremony at the Veterans Memorial Auditorium in Rhode Island, USA, moments after he delivered the commencement address to the graduating class at which over 400 students received their degree in Medicine.
Mr Brantley, who is also the Minister of Health in the Nevis Island Administration (NIA), told the Department of Information he was pleasantly surprised at the gesture.
"I was very surprised when at the end of my speech I was asked to remain standing and I was awarded an honorary degree of doctor of laws," he said.
Mr. Brantley also thanked the University, for what he described as a tremendous honour.
"I believe the award of this honorary doctorate is a tremendous honour and I would want to express my deep appreciation to the Medical University of the Americas and the Board of Trustees for bestowing an honour on me.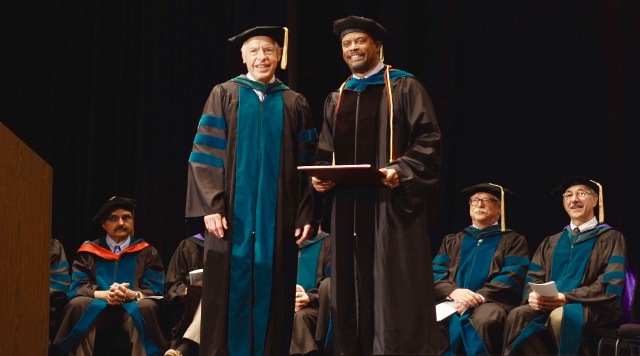 "I look forward to continue to serve with distinction and to participate in the development of our nation" he said.
The MUA campus has been in Nevis since 1998, and is thought of as maybe the most best-kept secret in medical schools.
The 10-acre facility at Potworks, over the years, has become an integral part of the community. The University has also partnered with the NIA to provide scholarships for students wishing to study in various areas of health and education offered at the MUA or other US or Caribbean based institutions.