NCDF takes culture to communities in celebration of 10th anniversary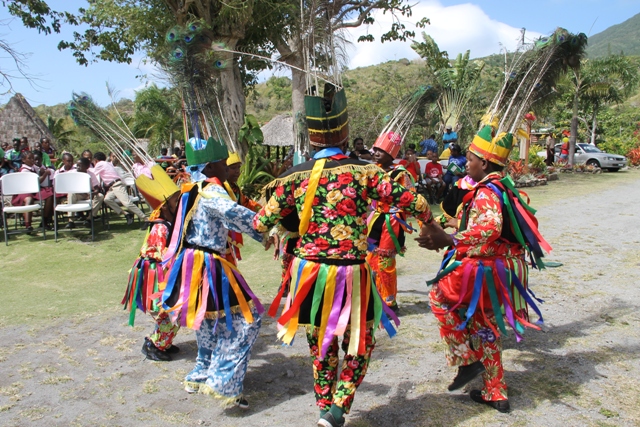 NIA CHARLESTOWN NEVIS (April 13, 2018) — A number of communities across Nevis will have the opportunity to experience first-hand, a number of cultural performances staged by the Nevis Cultural Development Foundation (NCDF).
Chief Executive Office Mr. Jerome Rawlins told the Department of Information on April 11, 2018 that the event on April 14, 2018, is one of two major activities planned to mark the Foundation's 10th anniversary.
"The Nevis Cultural Development Foundation will be going on an island wide Cultural Hop visiting a number of villages throughout Nevis…and will culminate in the Square.
"The objective is to spread the culture throughout the island of Nevis to sensitise the people as to the performances that we have been having at the NCDF and to ensure that the public is fully aware of what we have been offering," he said.
The villages included are Jessups, Barnes Ghaut, Cotton Ground, Fountain, Camps, Butlers, Zion, Rawlins, Church Ground, Cherry Garden, Bath Village, Pump Road, Craddock Road and Charlestown.
The second major event will be an Appreciation Day planned for April 27, 2018, at the NCDF headquarters at Pinney's. The other activities include a number of internal workshops and social events for the staff. They will be attending a church service as a unit on April 15, 2018.
In an invited comment Mr. Rawlins explained that the Foundation which was designed to preserve and promote the culture of Nevis has accomplished a number of its objectives since its inception.
"I think we have achieved a number of goals that were set out in 2008 but as anything else there's room for growth. There will be new initiatives placed on the table and I will be rolling out some of those new initiatives in the near future," he said.
Responding to whether the youths have been embracing the islands culture, he said they have been successful through the introduction of cultural programmes at all primary schools and some pre-schools on the island.
The CEO noted that at present they would soon be embarking on a new project in collaboration with the Nevis Historical and Conservation Society (NHCS) to implement a United Nations Educational, Scientific and Cultural Organization's (UNESCO)-backed project for St. Kitts and Nevis.
The Intangible Cultural Heritage (ICH) project, as it is known, is designed to safeguard the Federation's practices, representations, expressions, knowledge, skills – as well as the instruments, objects, artefacts and associated cultural spaces that communities, groups and, in some cases, individuals recognize as part of the cultural heritage.
Mr. Rawlins said he is confident that the objectives of the project will be met on Nevis because the Foundation has the right technocrats and officers in place who are excited about the project.