Nevis Deputy Premier pleased with progress of Newcastle Police Station construction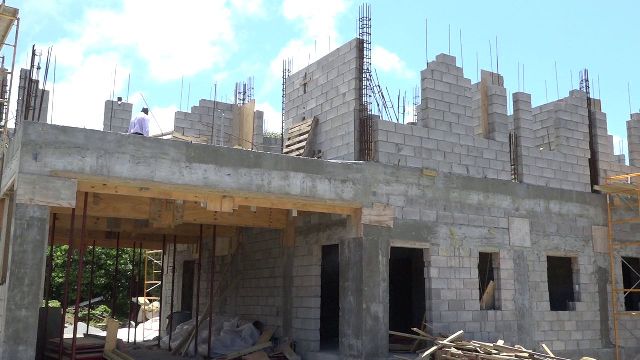 NIA CHARLESTOWN NEVIS (August 28, 2018) — Hon. Alexis Jeffers, Deputy Premier of Nevis and Area Representative for the St. James Parish, expressed satisfaction with the ongoing pace of construction for the Newcastle Police Station.
Mr. Jeffers, who is charged with spearheading the project on behalf of the Nevis Island Administration (NIA), said following a site visit on August 22, 2018, that there has been steady progress and good workmanship since Cabinet visited the site four months ago.
"I am pleased with the work that has been done and I want to commend the contractor and subcontractors who are involved here…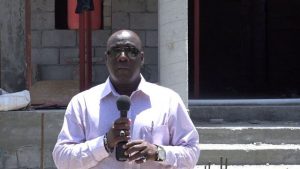 "The work that we are seeing here is consistent with the contractor, who has always done a wonderful job of construction that is consistent with what the engineers require. It is consistent with what we, as an administration, would like to see," he said.
Construction of the new $3.7million Newcastle Police Station commenced in January 2018 with funding from the NIA.  The 15,312 square foot project is expected to be completed by July 2019.
The deputy premier expressed hope that the federal government would assist with funding since national security fell under its purview even though the NIA has providing funds for the project so far.
On completion the two-storey multi-purpose building will house male and female officers from the Royal St. Christopher and Nevis Police Force and the St. Kitts and Nevis Fire and Rescue Services. It will also be outfitted with the necessary amenities to support the officers who will be stationed there.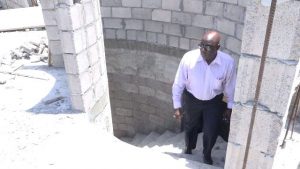 The new police station will replace a steel frame building which housed the Newcastle Police Station. In 2016 it was considered unfit for humans to live and work in and was condemned and subsequently demolished.
Police officers stationed there were redeployed temporarily at a rented building adjacent to the Vance W. Amory International Airport, along the Island Main Road.
Mr. Jeffers noted that the NIA is providing the necessary infrastructure for the police to ensure safety and security is maintained on the island and the station forms part of the administration's overall strategy in that regard.
The minister used the opportunity to commend Mr. Jasper Stapleton the project's general contractor; subcontractors, Mr. Lawrence Brandy for the electricals and Mr. Theo Wallace for the plumbing. Mr. Steadroy Pemberton is the Project Manager.