Nevis Disaster Management Minister Jeffers urges public to be alert and ready as TS Isaac approaches Caribbean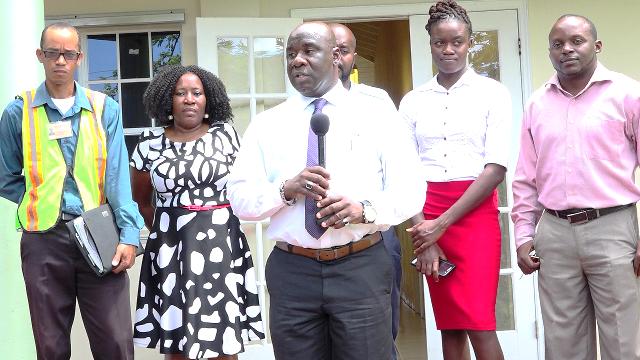 NIA CHARLESTOWN NEVIS (September 11, 2018) — Hon. Alexis Jeffers, Deputy Premier of Nevis and Minister responsible for Disaster Management, is urging the public to be attentive to media alerts and to be in a state of readiness as Tropical Storm Isaac approaches the chain of Caribbean Islands.
Mr. Jeffers encouraged the public on September 10, 2018, as he toured the various emergency shelters designated by the Nevis Island Administration for the 2018 Atlantic Hurricane Season.
"The exercise this morning is just so that we are getting ourselves much more in a state of readiness even though we are taking it to another level to make sure that anything that happens we are prepared to the best of our abilities.
"I want to ask the general public to continue to follow the various media houses that would put out information from time to time. Of course you can check also the Nevis Disaster Management Department's (NDMD) website [www.ndmd.kn] for additional information and social media would be used as much as possible to get information out," he said.
The minister, who was accompanied by a team comprising of officers from the Department of Physical Planning, NDMD, Department of Community Development, and the Ministry of Health, visited a number of shelters as part of an ongoing exercise to ascertain whether there any deficiencies and to seek to take corrective measures if any are found.
He regarded the tour as an important undertaking, however, the list of shelters and shelter managers would be announced subsequently.
"This is an important venture because we are able to get some more information out to the public as to where the shelters are. Of course a public announcement will be made in subsequent days as to where all of the shelters are and who the managers are. The disaster mitigation team I'm sure would be mobilised if needs be," he said.
He underscored the need for the public to protect themselves as much as possible in time of natural disaster.
"Please stay in tune, please stay alert and protect yourself as much as possible and it starts with ensuring that your lives and property are taken care of, in terms of your personal commitment to take care of yourself and of course, the administration will do what is necessary to fill any void that is created during any unforeseen or any unfortunate situation," he said.
Mr. Jack Ngumbah, Senior Communications Officer at the NDMD, called on the public to know where the shelters are located, heed the warning of experts and follow evacuation orders whenever they are issued.
Meantime, Mr. Marvin Hanley, Senior Building Inspector at the Ministry of Health who is tasked with inspecting the emergency shelters told members of the public who use the facilities to care for them. He said over the years the NIA has invested a lot of money to build and maintain them and the public should be mindful of how they treat those buildings.
Mrs. Janette Meloney, Director of the Department of Community Development, said the department as been working to ensure that the centres are in a state of readiness.
"Persons who may have to use the centres in case of an emergency, you can put your heart at ease that you will be taken care of," she said.
Also present was Ms. Rhosyll Jeffers, Assistant Secretary in the Ministry of Agriculture with responsibility for Disaster Management and Mr. Javier Ottley Senior Environmental Health Officer in the Ministry of Health.