Nevis' Education Minister pledges support for education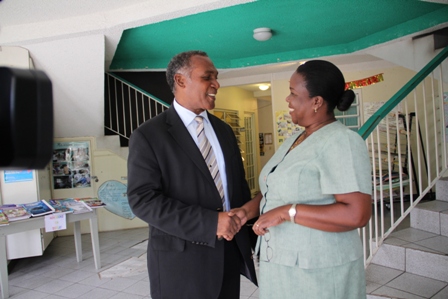 NIA CHARLESTOWN NEVIS (January 31, 2013) —
Premier of Nevis and Minister of Education Hon. Vance Amory pledged his unwavering support for education since it is the key to the island's future success.
The Minister made the disclosure at the end of an official visit to the Ministry of Education at Marion Heights on January 31, 2013, his first there since he took the reins of office on January 26, 2013.
"I will give full support to education because I believe that that is our key for future success. It may sound clichéd but it's the truth.
"I pledge as far as possible, as far as the resources of government would allow, whenever there is a need and a request to assist, to fulfill that need so that we can provide the best for our children and let our teachers and staff know that they are important in the scheme of things as far as this CCM [Concerned Citizens Movement] Administration is concerned," he said.
Mr. Amory described his visit with the teachers and staff at the Ministry as cordial and registered his satisfaction with what he had witnessed on the compound.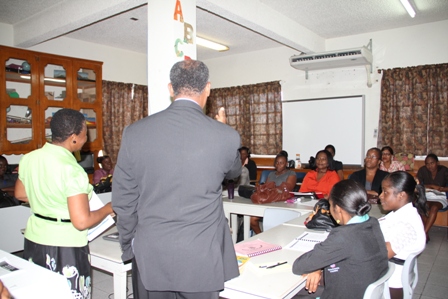 "I am very pleased with what I have seen and I think we have had a very friendly introduction to the staff.
"I was fortunate [to have met] Mrs. Wilkin working with the Grade 2 teachers. I think that also gave me an opportunity to interact very briefly with the teachers and as I like to say, teaching has been my life. I know I have spent more time in the political arena than education but I do consider myself still as a person who loves education," he said.
The Minister of Education used the opportunity to extend best wishes to all the island's educators for the remainder of the school year.
"I wish you and the staff and the head teachers in all the schools all the best for this year. I know we are halfway through the school term already but I am sure we are going to have a successful end to the school term.
"I know you are in the middle of your sporting term and I hope if everything goes well I would be able to witness most of the sporting events," he said.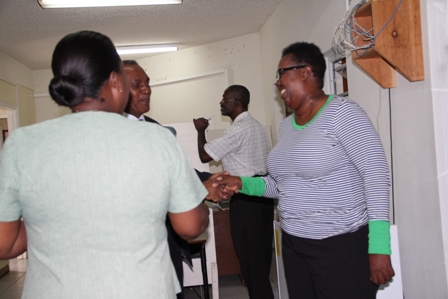 Meantime, Permanent Secretary in the Ministry of Education and Principal Education Officer Mrs. Lornette Queeley-Connor, in her brief welcome remarks stated that she was pleased the Minister of Education was able to visit the Ministry and its officers. However, she said they were expecting a speedy return visit since what he saw was only the beginning of good things happening in education.
During Mr. Amory's visit, the Permanent Secretary escorted and introduced him to staff in the Ministry stationed at Marion Heights.