Nevis Electricity Company shows appreciation to Senior Citizens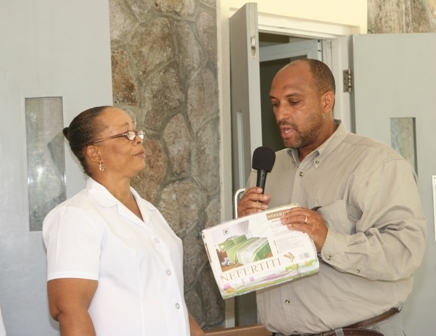 The Nevis Electricity Company Limited's Transmission and Distribution Manager Mr. Ian Ward (r) presents the gift of bed linen to Nurse Manager of the Flambouyant Nursing Home Sister Myris Morton
CHARLESTOWN NEVIS (September 10, 2010) — The residents of the Flambouyant Nursing Home on Government Road in Nevis, recieved a gift of over $1,000 worth of cotton bed linen from the Nevis Electricity Company Ltd. (NEVLEC)on Friday.
During a brief but significant handing over ceremony at the Home, General Manager of NEVLEC Mr. Cartwright Farrell said the gift was a token of appreciation to the Senior citizens. He explained that the gesture was part of the Utility Company's 10th anniversary week of activities which concluded one week ago but the handing over was rescheduled due to the passage of Hurricane Earl.
"NEVLEC has decided it's time to hand over some kind of token of appreciation to our senior citizens at the Flambouyant Home, to show our appreciation for their contribution to our great society here in Nevis," he said.
The presentation was made by Transmission and Distribution Manager Mr. Ian Ward who expressed hope that the linen would be used for the benefit of all the facility's residents.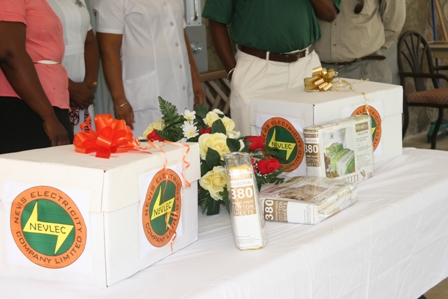 The Nevis Electricity Company Limited's gift of cotton bed linen for the residents of the Flambouyant Nursing Home as part of their 10th anniversary celebrations
In response Nurse Manager of the Home Sister Myris Morton on behalf of the residents and staff of the Flambouyant Home thanked the Utility Company for its gift and wished them well in future endeavours.
"We do appreciate this timely gift and we know that it would add comfort to our residents," she said.
In an invited response as to why bed linen was the gift of choice for the Home, NEVLEC's Human Resource Manager Ms. Maureen Webbe told the Department of Information they had enquired what was the most immediate need and were told bed linen.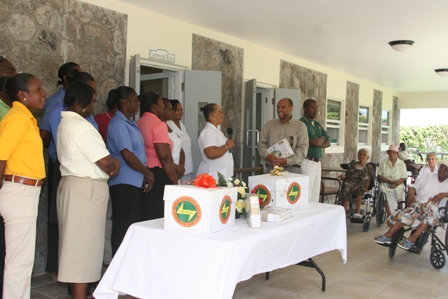 Staff of the Nevis Electricity Company Limited, Senior Management of the Alexandra Hospital and some residents of the Flambouyant Nursing Home look on during the handing over ceremony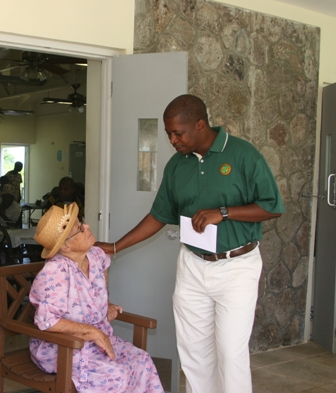 General Manager of the Nevis Electricity Company Ltd. Mr. Cartwright Farrell interacts with residents of the Flambouyant Nursing Home