Nevis Financial Services to host Seminar on Money Laundering and Terrorist Financing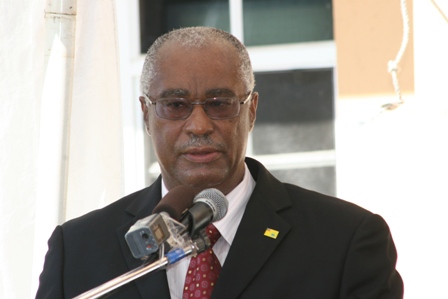 Premier of Nevis, Hon. Joseph Parry (file photo)
(CHARLESTOWN, NEVIS–FRIDAY, JANUARY 28TH, 2011) Premier of Nevis, Hon. Joseph Parry will open the 7th Annual Anti Money Laundering (AML)/Caribbean Financial Action Task Force (CFATF) Awareness Seminar, hosted by the Nevis Financial Services Regulation and Supervision Department. The event is scheduled for Tuesday, February 1st from 8am, at Occasions Event Center at Pinneys.
The theme for this year's Financial Seminar is "Perspectives on Money Laundering & Terrorist Financing Risks and Vulnerabilities".
The keynote address will be delivered by Ms. Dawne Spicer, Deputy Executive Director of the Caribbean Financial Action Task Force (CFATF).
These annual seminars provide financial institutions, designated non-financial businesses and professions information of their obligations under the Federation's anti-money laundering and anti-terrorism laws, as well as on new developments and initiatives being undertaken by international bodies such as the CFATF, Financial Action Task Force (FATF) and Organization of Economic Co-operation and Development (OECD).
This year's Seminar will focus on Money Laundering Terrorist Financing risks and vulnerabilities, relevant to the significant sub-sectors served by financial services businesses in Nevis.
Presenters will include President of the Nevis International Service Providers' Association Mrs. Jackie Hunkins-Taylor; Attorney-at-law ,Mr. Adrian Scantlebury; General Manager of The Bank of Nevis, Mr. Everette Martin and Head of the St. Kitts an Nevis White Collar Crime Unit, Inspector Franklyn Belgrove.
Attendees will also participate in group discussions on some of the money laundering cases which have been successfully prosecuted in a number of Caribbean Islands.