Nevis' Ministry of Social Services honours Shekhinah Dance Theatre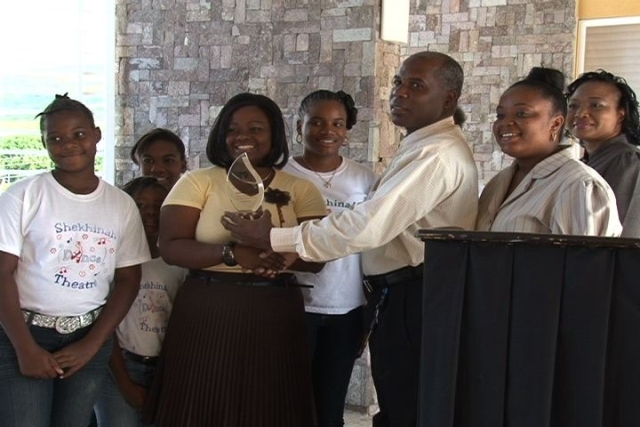 NIA CHARLESTOWN NEVIS (January 03, 2012) —
Permanent Secretary in the Ministry of Social Services Mr. Alsted Pemberton encouraged others in the community to do the same as the founders of the Shekhinah Dance Theatre (SDT), to help mould the youth of Nevis.
Mr. Pemberton's was at the time delivering remarks at a small but significant ceremony at the Nevis Performing Arts Centre on December 27, 2012, to honour the Group's invaluable dance instruction and community service since its inception four years ago.
The event formed part of the Department of Social Services ongoing programme to pay tribute to young persons on Nevis for their contribution to the development of Nevis in a number of areas.
"I am aware that the students in this dance group have been learning a lot of other things apart from dance, they have been doing some social graces, they have been doing outreach programmes and they have been doing community activities as well.
"So the group is not just focusing on dance but developing the holistic aspect of our young persons. We want to encourage other persons and folks outside there to be involved in the development of the young persons here on Nevis," he said.
Mr. Pemberton commended the Dance Group's founders Mrs. Tamicia Lestrade and Mrs Diana Pemberton for what he described as the excellent work they continued to do. He expressed the view that the pair were inspired by God hence their ability to work with the ever vibrant members of their Group.
During his presentation, the Permanent Secretary also acknowledged that dance was an art form which allowed human movements to become the medium of sensing, understanding, communicating ideas, healing and experiences which promoted learning.
"One develops communication abilities, problem solving techniques and creative and creative thinking skills. Generally, dance education helps to engage students in artistic experience through the process of creation performance and response.
"With this in mind, I want to say that the Shekhinah Dance Theatre has been doing exactly what dancing is all about and they have not only been doing that but they have been doing a lot of other things within the community with our young persons here on Nevis," he said.
The Nevis Island Administration Official also stated that the Ministry of Social Development continued to recognise the invaluable contribution of the island's youths, seniors, other groups and sports persons on Nevis. He explained that the Ministry was of the firm view that once persons contributed significantly to the social, economic and political development of Nevis, persons on Nevis should know who they were.
He also noted the importance of the Ministry's partnership with those who assisted in the development of the island's youths.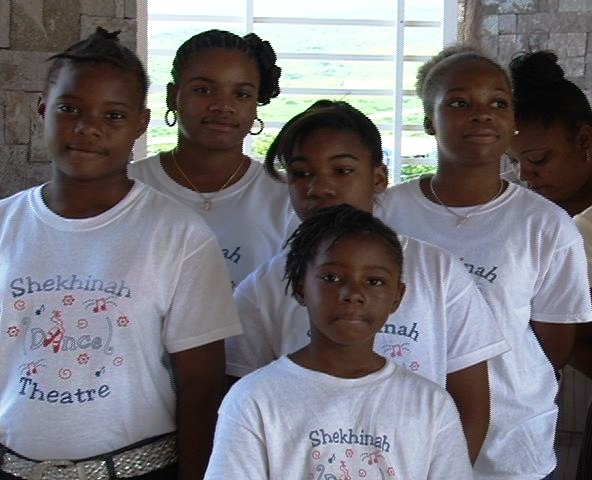 "So we in the Ministry of Social Development continue to give respect and honour where hour is due to our persons who excel…
"The Ministry was so impressed with the group [Shekhinah Dance Theatre] when it started, that since its inception we have provided transportation for the persons who are going back and forth to practice because we see that we need to partner with community groups who are involved in the development of our young persons and we were happy to do that and we will continue to do that," he said.
In response, Mrs. Lestrade expressed gratitude for the NIA's recognition of the work she and her co founder Mrs. Diana Pemberton had been engaged.
"I can speak for the group and say that we feel very much honoured to be recognized by the Department of Social Services and the Nevis Island Administration. We thank you very much we appreciate it.
"The girls work hard and Diana and myself, we do work hard with them and so let me just say thank you to everyone who would have been a part of selecting us to be awarded this morning. Also, let me say thank you to the Nevis Island Administration for your assistance with the group and to everyone parents dancers we thank you," she said.
The all girls Dance Group was launched in Nevis on April 12, 2008, in Charlestown and according the Group's Production Manager Ms. Nicole Lawrence whose daughter is a member, the basis of the SDT was to glorify God through dance.
"Bolstered with the divine presence of God and more than a decade of dance training and experiences, Tamicia and Diana sought a mandate for youth empowerment and a positive dance ministry, by instilling good moral values and well needed discipline to develop professional and enhanced performance skills in their students while promoting greater youth involvement in community activities.
"Under the leadership of dance instructors Tamicia Lestrade, Diana Pemberton and Delia Pemberton, STD meets every Saturday at the Nelson Mandela Community Centre at the Flats in Cole Hill. The current roll is about 60 ranging from ages 3-25," she said.
Mrs. Lawrence added that the members were continually exposed to training in different genres of dance among them African, Ballet, cultural, creative, lyrical and liturgical dances.
She described Group's members as hard working, talented and confident and noted that they were also given regular opportunities to display their talent and to develop their chorography skills particularly in dance productions and dance competitions.
To date, the Group has had five dance productions and in July 2012, it became the first local group to perform at the Nevis Performing Arts Centre (NEPAC) with their acclaimed Faith Dance production "Celebration, a Journey through the Nations with God's creations".
According to Mrs. Lawrence, the SDT continued to use the Dance Ministry to help members praise and worship God in all aspects of their lives
"Shekhinah Dance Theatre members have benefited from training in building confidence and self-esteem, developing dance and expressive skills, etiquette, discipline and being involved in numerous community outreach programmes including participating in periodic clean-ups of the beaches on Nevis.
"[It] is also about giving back to its members and the Nevisian community whether in cash or kind. STD is often a regular feature of most benefit concerts and has made significant monetary contributions to individuals and organisations in Nevis including the Blind Light and Visually Impaired Society and the Wings of Hope Incorporated and regularly offers kind assistance and entertainment to the residents at the Flamboyant Nursing Home," she said.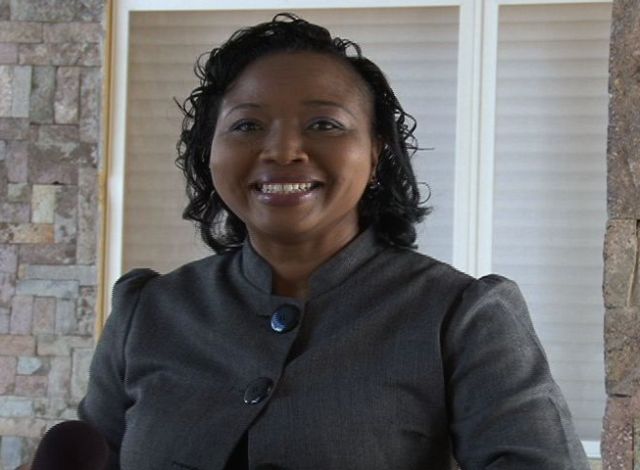 From its inception, the Group has encouraged and supported its members through their homework and School Based Assessment (SBA) assistance programmes and has rewarded them for their outstanding academic achievements and development in dance.
In conclusion, Mrs. Lawrence added her thanks to the founders of the work of the dance group.
"The Shekhinah Dance Theatre is truly an example of God doing his awesome work in Nevis. Tamicia and Diana, we salute you for your vision hard work and for the development of the youth and Dance Ministry on the island of Nevis," she said.
The ceremony was chaired by Youth Development Officer in the Ministry of Social Services Ms. Vieda Leiser Mills.