Nevis Premier urges public to support Inter Primary School Athletics Championships at new Mondo IAAF certified-track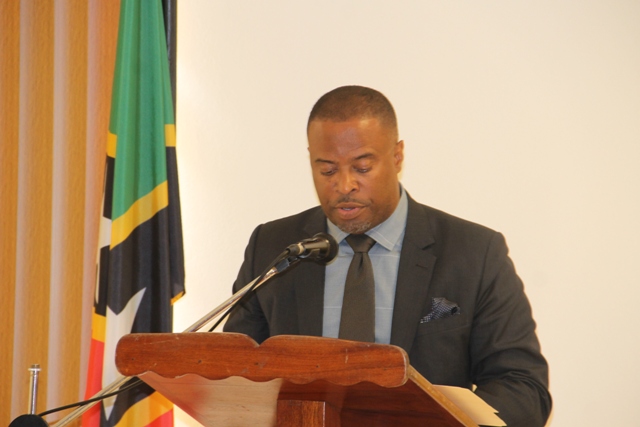 NIA CHARLESTOWN (February 26, 2018) — Premier of Nevis Hon. Mark Brantley is urging the public to attend the 2018 Inter Primary School Athletics Championships on March 28, 2018, the first official athletic event to be held at the new International Association of Athletics Federations (IAAF) Level 2 certified Mondo Track at Long Point.
Mr. Brantley was at the time speaking of a number of projects on the island at his first monthly press conference recently when he asked the public to be a part of the historical event.
"We are very, very proud of it and I hope that our Inter-Primary Sports that will occur there, I am told in March, that that inter-primary sports will be excellent.
"We invite all of Nevis to come out. The last indications that I had suggesting that we should expect something like 10,000 people. I think that's a reasonable number because all of Nevis is expected to be there and I am sure half of St. Kitts because people will be interested in knowing what is going on over there," he said.
The Premier who is also the Minister of Finance said bathrooms and some additional seating are in the process of being installed. However, bleacher seating for more than 2,000 persons has already been installed and additional seating has been ordered.
He said he is satisfied to see school teams from across Nevis utilising the track for daily practice sessions.
Mr. Brantley described the project as a very important one. He added that once the athletic season ends the additional phases will commence.
Outside of athletics, the Premier also encouraged other members of the public to utilise the facility they would be proud of for health and wellness.
"If you have not visited the Mondo facility yet, I suggest you do so. I think it is a project that all of Nevis will rightly be proud of and so, I ask you to go there to see the youngsters practising.
"If you need to get fit, as I do, I suggest you go there and try out the track as well so that you can have a feel of what it's like to be on an IAAF Level 2 certified facility," he said.