Nevis prepared to cooperate with Brazil, Premier Amory tells Brazilian Ambassador to SKN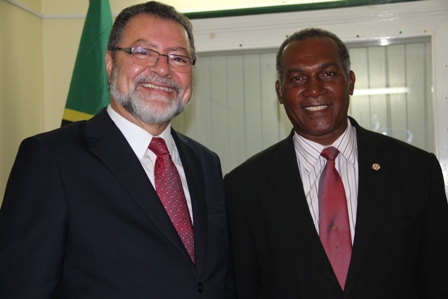 NIA CHARLESTOWN NEVIS (March 25, 2013) —
Premier of Nevis Hon. Vance Amory said Nevis was prepared to work with the Republic of Brazil, in its quest to lend a helping hand to its friends in the Caribbean.
Mr. Amory made the comment as he welcomed Brazil's Ambassador to St. Kitts and Nevis His Excellency Antonio Jose Rezende de Castro, when he paid him a courtesy call at his Bath Hotel Office on March 22, 2013.
"The Ambassador and I, we had very free discussions on how the Republic of Brazil could help St. Kitts and Nevis and in our case Nevis especially and we spoke of areas of cooperation…
"I think we in St. Kitts and Nevis are happy to have the Ambassador with us. He has taken up a new appointment here to talk about ways of cooperation, in education, in agriculture, in alternate energy, in the production of electronic items and so on. I think the Ambassador is bringing a whole new approach, it appears, to how St. Kitts and Nevis can cooperate," he said.
Meantime, Ambassador de Castro said his country had been opening embassies in the region to make its presence felt. He stated that Brazil shared a common history with St. Kitts and Nevis and the Caribbean, since it was once a colony and was also subjected to economic exploitation in its past and therefore wanted to assist in whatever areas it could.
"Because we have sort of lived the situation and we are in a different level of development today, we are very much interested as a government to give a helping hand to our friends and brothers in the Caribbean and in the developing world. I think we could do plenty of interesting things in St. Kitts and Nevis especially here in Nevis.
"[There are] certain specific areas that could be specially useful like the production of food stuffs, sports cooperation especially soccer in which we are rather specialised, alternative energy which would also be interesting in order to avoid spending precious foreign cash in importing fuels and a number of cultural endeavours like the formation of Brazilian University students in English in Nevis, in order to prepare them for their post graduate studies in English-speaking countries and these are some of the things that we have broached now and we do expect to amplify and clarify in the near future," he said.
The Brazilian Ambassador noted that although this was his first visit to Nevis, he was hopeful that it would be the first of many.
"This will be the first of many visits to Nevis, I do hope, in order to be able to put us at the disposal of the Nevis Government and of the Federation of St. Kitts and Nevis, to do the utmost so that we could work together for the betterment of the social and economic situation of our peoples," he said.