Nevis Public Utilities Minister considers training an investment; NEVLEC linesmen get trained by Barbados Light & Power facilitator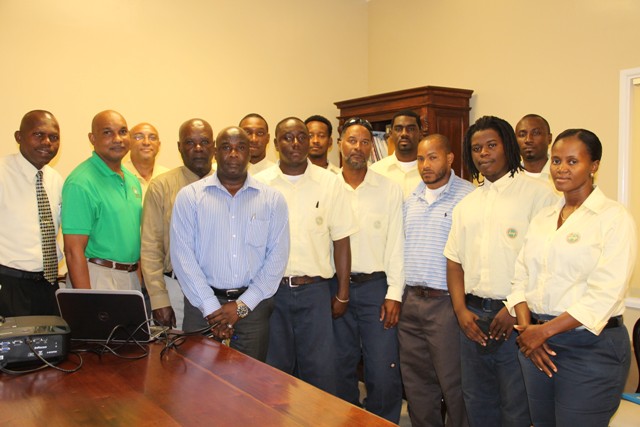 NIA CHARLESTOWN NEVIS (September 06, 2016) — Minister responsible for Public Utilities on Nevis Hon. Alexis Jeffers says human resource development continues to be at the forefront of the Nevis Island Administration (NIA), as it continues to invest in the people of Nevis.
His comment came when he delivered remarks at the start of a Transmission and Distribution Training Workshop for 20 Nevis Electricity Company Limited (NEVLEC) linesmen on August 05, 2016, at the company's conference room at Long Point. Ten linesmen will be trained per week over a two-week period which focuses on safety. The facilitator is Curtis Brewster, Technical Trainer at The Barbados Light & Power Company Limited.
Mr. Jeffers noted that the investment in training would serve to elevate the service delivered by the company.
"When you invest in anything or in anyone, you look for a return on your investment and the return we are looking for, is for you to be the flagship of NEVLEC, in terms of the service you provide, in terms of the work ethic that you will adopt after the training.
"No longer are you going to look at yourselves as just linesmen, who go out there and climb a pole but you will be seen as someone who has gained some training and who will be implementing it to improve the standard of service that NEVLEC offers and also, by extension, the service that we offer to our consumers who are looking for the best out of NEVLEC," he said.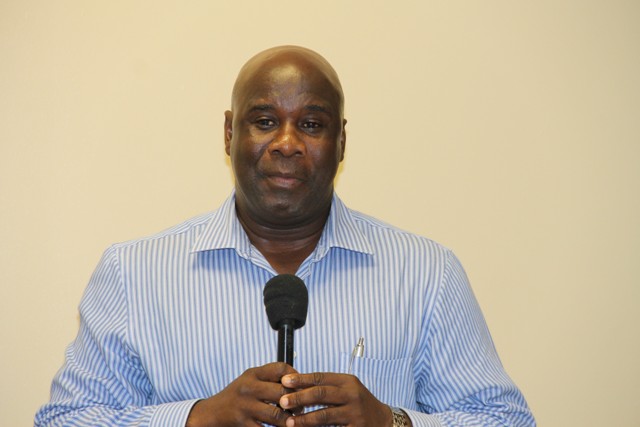 The Minister acknowledged that the company had been trying its best with its limited resources and commended the linesmen for going the extra mile.
He told them, they make it possible for the company to offer a service to its many customers that is parallel to any other utility company in or out of Nevis. However, he said there is more to be done and training has become necessary.
Mr. Jeffers added that training would not stop with the linesmen but all areas of the company would receive the necessary training in an effort to make NEVLEC an entity all would continue to be proud of.
Meantime, Chairman of the NEVLEC Board of Directors Mr. Farrell Smithen, in brief remarks told the participants that the training would provide an opportunity for them to sharpen their skills and gain knowledge pertinent to their jobs.
He challenged them to ask questions and to soak up all the information they could during the training exercise.
"All I request of you is to do what you have to do, get the knowledge that is imparted and let us lift the standard of NEVLEC here in Nevis," he said, adding that at the end of the exercise the Board would conduct its own assessment.
Acting Manager Jervan Swantson explained that the training follows a needs assessment conducted by The Barbados Light & Power Company Limited in May, to ascertain the status of NEVLEC.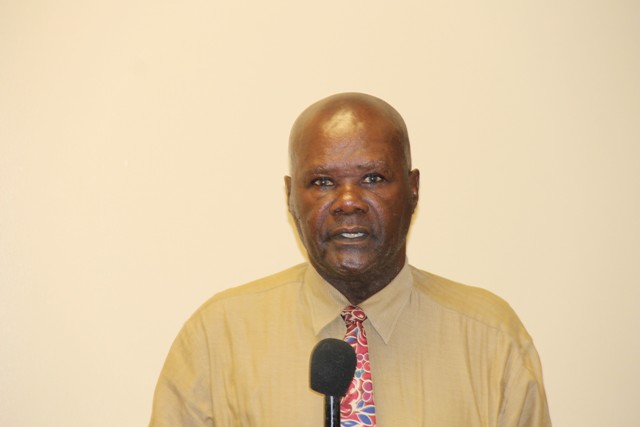 He told the participants that although they are at varying levels in the Transmission and Distribution department, they should engage the facilitator as much as possible.
"Ask him everything and anything that you need to know. Knowing what to do, how to do it correctly and most important, how to do it safely are all of the things that are going to be coming together this week," he said.
Other remarks came from Mr. Brewster while Transmission and Distribution Manager Ian Ward served as chairman for the opening ceremony.