Nevis rep at regional agriculture organisation pleased with recognition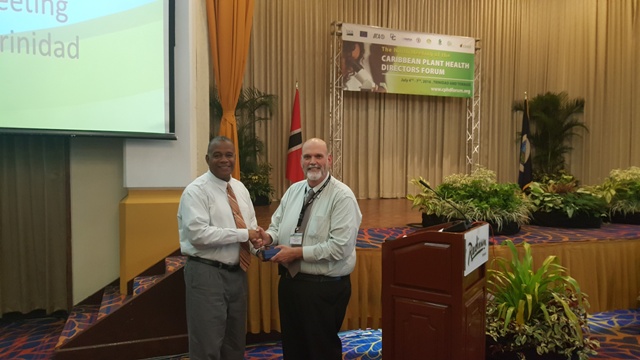 NIA CHARLESTOWN NEVIS (July 21, 2016) — Permanent Secretary in the Ministry of Agriculture Eric Evelyn says he is proud that members of the Caribbean Plant Health Directors Forum decided to invest their confidence in him.
He was at the time speaking to the Department of Information following his recent reappointment to serve as the 31-member group's Technical Secretary for the third consecutive time.
In an invited comment, Evelyn said he believes his reappointment was based on proactivness and the active role he continues to play in the group for the past eight years. The members comprise all the English, French, Dutch and Spanish-speaking Caribbean.
"I guess persons have realised the contribution that I am making to the organisation…
"I guess it's because of the fact that I have done a pretty good job, according to the members, and an outstanding job for the past four years being first elected in the British Virgin Islands in 2012," he said.
During the group's latest meeting in Trinidad, Evelyn was re-elected to the executive position. He was also presented with an award by the United States Department of Agriculture (USDA), in recognition of initiatives and innovations that make significant contributions to further the goal of safeguarding the region's agriculture and plant resources.
He said the award came as a surprise since it would normally go to the bigger islands in the grouping. However, he believes his consistent work as Technical Secretary won him the award in 2016. The last recipient was The Pest Risk Analysis Unit in Jamaica.
Meantime, Evelyn explained that the forum safeguards the plant resources of the Caribbean which protect the region from pests and diseases that come into the area.
He said membership offers many training and infrastructure development opportunities that are available throughout the year and he spoke of the areas in which they are offered.
"They benefit from infrastructural development. For example, there are some countries that will be getting equipment. Some countries get traps to do surveillance. We also develop resource material including training manuals and so on," he said.
In the case of Nevis, Evelyn noted that an officer from the Department of Agriculture has already benefited from training.
"We have what you call a Plant Protection and Quarantine Course that is run by the University of the West Indies annually for the past five years and one of our officers would have benefited from that training," he said, adding that another officer was slated to participate in the training this year, however, due to funding issues the training was shelved to 2017.