Nevis' road infrastructure withstands torrential rains caused by Hurricane Tammy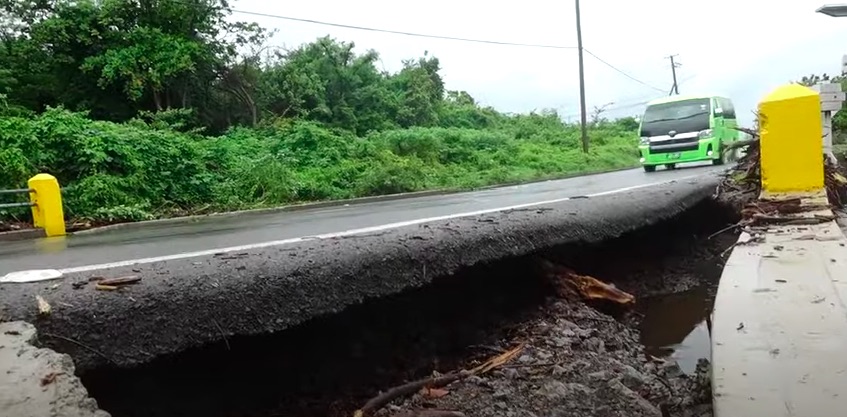 NIA CHARLESTOWN NEVIS (October 26, 2023)- Director of the Public Works Department in the Nevis Island Administration (NIA) Mr. Jevon Williams says while assessments are ongoing, initial evaluations indicate that the main road network around the island did not sustain any major damage from the heavy rains associated with the passage of Hurricane Tammy over the weekend.
"There was no major damage to the main roads however some of the feeder roads had some washout along the sides of the roads, as was expected. The projects where work was still ongoing at the time also held up very well. Bath [Village], Brownhill, Craddock Road, Ramsbury, the Bypass Road are in good shape," he said, noting that Rawlins, Butlers, Pump Road, upper Prospect and Browne Pasture were some of the areas affected by water swells.
The Director indicated that one village road in Braziers suffered significant wash out but overall the damaged roads can be easily repaired. Culverts and U-drains that were blocked during the rains, he said, have already been cleared of debris and road clean-up has been ongoing.
During his October 24 press conference, Premier of Nevis the Honourable Mark Brantley extolled the work being done by the Public Works engineer and road work team, crediting them for the excellent construction of the roads across the island.
He also put on record his gratitude to Deputy Premier the Hon. Eric Evelyn for his stewardship as Acting Premier during that time while the Premier was overseas, and the Hon. Spencer Brand and his team responsible for disaster management for the "remarkable job they did in ensuring that our island was prepared and our people were informed".
He further registered his appreciation to the entire NIA Cabinet for the way that they managed Nevis during the threat of storm.