Nevis Teachers' Union thanks NIA for assistance with land for headquarters construction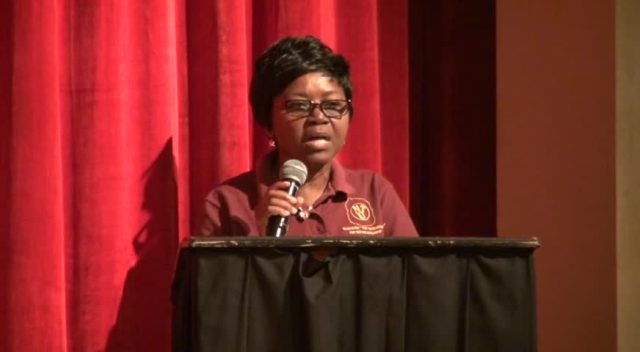 NIA CHARLESTOWN NEVIS (OCTOBER 09, 2015) — President of the Nevis Teachers' Union Ornette Webbe publicly thanked Premier of Nevis Hon. Vance Amory and other members of the Nevis Island Administration who, she says, were instrumental in providing the union with long-awaited land for the construction of its headquarters.
Webbe was at the time delivering remarks at the union's observation of World Teachers' Day, 2015 with a Professional Development Session. It was held at the Nevis Performing Arts Centre at Pinney's on October 05, 2015. The theme was "Empowering Teachers: Building Sustainable Societies."
She said because of the assistance they had received from Mr. Amory and the administration the union now has the relevant land documents.
"We now have the document for the land and the executive has already met with an architect to discuss the blue print for the NTU Headquarters," she said.
Webbe, also used the opportunity to remind those responsible for selecting persons honoured during the St. Kitts and Nevis Independence celebrations held in September that an educator should be selected every year.
According to the union leader, teachers are nation builders and they should be honoured.
She also urged the teachers to continue to strive for the best for St. Kitts and Nevis.
Meantime, Webbe described teachers as the backbone of societies, whose influence stretches way beyond what can be imagined.
She explained that the theme chosen for the 2015 observance of the World Teachers' Day engenders much thought and the development session was in keeping with empowering the union's membership.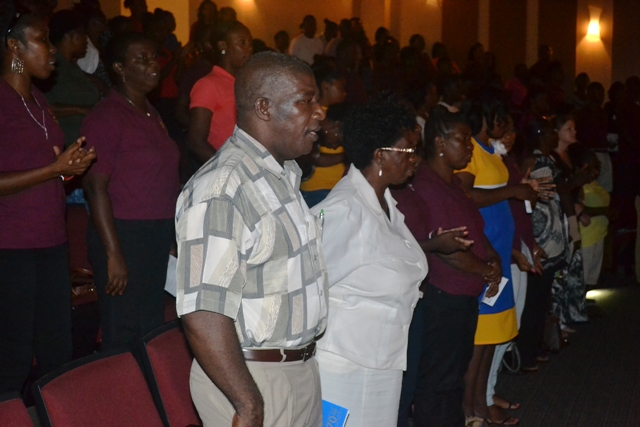 "In our role as educators, we have the power to make or break societies. The truth is, our desire is to build. The end product is sustainable societies…As teachers we need to be empowered," she said.
The union leader noted that the NTU's mission statement indicates that one of its roles is to provide professional development for teachers, with a view towards improving the standard of education and fostering a better relationship between teachers and the public.
She said the NTU's executive deemed it fitting to commemorate the day by convening a professional development session for teachers, citing it was an exercise from which everyone stood to benefit from.