Nevis Treasury services expected to return in full shortly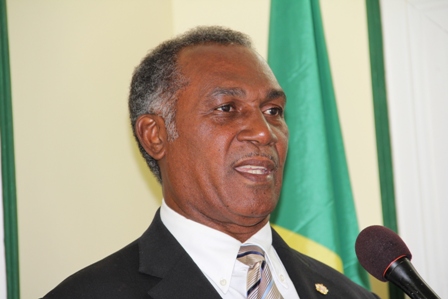 NIA CHARLESTOWN NEVIS (February 12, 2014) — A full resumption of services offered in the burnt out Treasury Building on Nevis is expected to come in the coming week.
Premier of Nevis and Minister of Finance in the Nevis Island Administration Hon. Vance Amory made the comment when he gave an update of ongoing arrangements to settle those areas in the aftermath of a fire on January 17, 2014, which crippled the services offered by the Treasury, Inland Revenue, and Value Added Tax (VAT) departments.
"By next week, I think our people can be pretty satisfied that the service will be returned, if not fully restored. At least people will be able to pay their bills. People will be able to be paid. Our creditors will be able to get paid…
"I think our Treasurer and our [Permanent Secretary] PS and other senior staff at the Ministry of Finance and the Treasury Department and the Tax offices have been working really very seriously to get things going and I want to commend them for that. I did say to them that they should hold themselves in readiness to do the extra mile," he said.
Meantime, Mr. Amory used the opportunity to assure the more than 40 workers employed at the Treasury Building that they would not be laid off because of the fire.
"Some people asked if we're going to lay them off. We can't lay them off. That really was not a very merciful thing to think that because there was a fire that we should let them off.
"I think it is an unforeseen circumstance. It's a tragedy. It's a devastation. It's a big loss and I think the staff will all be paid but we expect them to come in to work to assist with the relocation and the re-establishment of services and they have been doing that and I want to commend them for that," he said.
Since the fire, the NIA had sought assistance from the Federal Government. The request was met with a swift response and a consignment of office furnishings and equipment was donated and shipped to Nevis late January with the assistance of members of the Private Sector.