Nevis Water Department addressing unexpected water interruption expeditiously, Premier Brantley says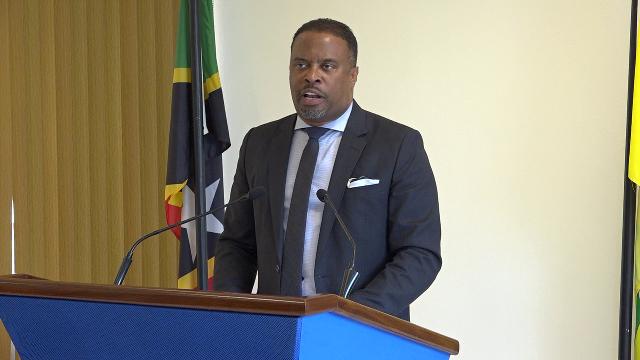 NIA CHARLESTOWN NEVIS (July 25, 2010) — An unexpected interruption in the water supply late Wednesday July 24, 2019 into Thursday to consumers in the Newcastle, Fountain, Westbury, Jones Bay and surrounding areas has been attributed to equipment failure.
Hon. Mark Brantley, Premier of Nevis, addressed the matter at his monthly press conference at Cabinet Room on Thursday, July 25, 2019, noting that the matter has received prompt attention by the Nevis Water Department.
"The water department through the minister and his team, they have indicated that there was a broken pump in the Butlers area and that that replacement pump would be lowered this morning and we hope they are doing it as we speak and sincerely, we apologise of course for any inconvenience.
"These things happen from time to time and I just want the public to be patient with us," he said.
Mr. Brantley used the opportunity to continue to encourage the people of Nevis to be prudent and sensible in their use of water.
"Our water supply is low. We have said that. We are still in drought conditions and I continue to encourage our people to be sensible in terms of how they use water and to conserve as much as possible," he said.
The Premier also announced, on behalf of the department, the strides they had been making on the Nevis Water Supply Enhancement Project.
"They have completed installation of their eight-inch transmission mains from Westbury to Jessups and as a result the department can now eliminate the use of the booster station at Jessups where water is pumped to the upper Mantake tank for distribution to Barnes Ghaut…They have also completed 80 percent of pipe installation where they upgraded from a three-inch cast iron main to six-inch PVC mains at Brown Hill.
They are also working closely with Surrey Paving as they work to improve the road section between Cotton Ground and Cliff Dwellers," he said.
Meantime, in another water related issue, Mr. Brantley stated that representatives from AdEdge Water Technologies, filtration system providers based in Georgia in the United States of America, were on Nevis from July 8-10 to visit the Hamilton site where the Nevis Island Administration plans to have a filtration system installed.
"We are investing in a filtration system. What that will do is allow us to put water into the supply that was hitherto outside of the supply because of the high chemical content, manganese I think, and so, the filtration system will purify the water to bring it to the [World Health Organization] WHO standards, and that is what we are seeking to do, and that is a significant investment and we are working to get that completed," he said.