Nevisian athletes welcomed home by Premier Parry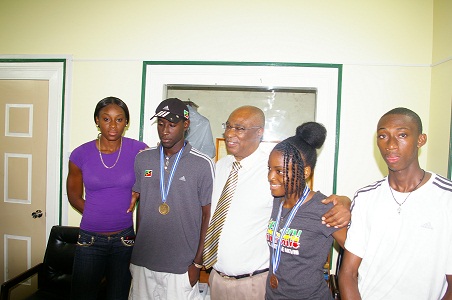 Charlestown, Nevis (Thursday, July 5, 2012)–
Premier of Nevis, the Hon. Joseph Parry on Wednesday morning welcomed Nevisian athletes back home from El Salvador where they participated in the Central American and Caribbean Junior Athletics Championships (CAC) held from June 29 – July 1, 2012.
The Premier hosted the athletes at his Bath Plain office shortly after their return to the island, and following a mini-motorcade through down town Charlestown celebrating their success.
The five athletes, who were part of a team of fifteen (15) athletes and four (4) officials which represented the Federation of St. Kitts and Nevis at the Games, were Izaun Ward, Adrian Williams, Brittany Morton, Sadiki Tyson and Renika Daniel.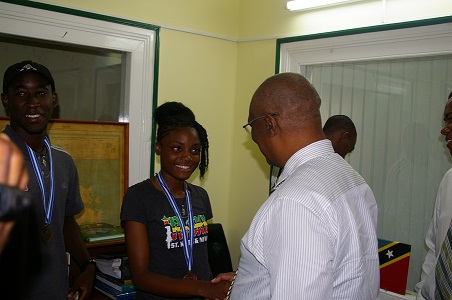 Adrian Williams and Renika Daniel won medals.
"I am very pleased today that our young athletes were able to compete and win medals. I hope to some day see these same athletes compete in the Olympics", commented the Premier.
Seventeen-year-old Adrian Williams of the Gingerland Secondary School, who competed in the Javelin for Under-18 Boys, captured the gold medal with his best throw of 68.41m. He also broke a 12-year-old record for the 700gm implement of 61.81m set by Jamal Forde of Barbados way back on July 16, 2000 in San Juan, Puerto Rico.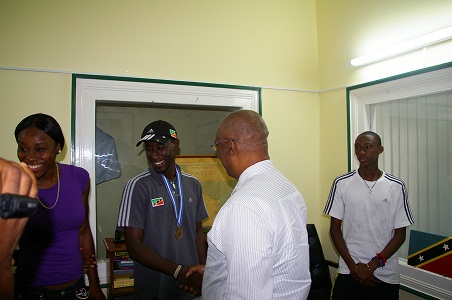 Sixteen-year-old Renika Daniel of the Charlestown Secondary won a bronze medal after a spirited run in the 400m for Under-18 girls to finish third in a time of 56.13 secs.
Adrian and Renika, who were both accompanied to the Premier's office by their mothers, were the recipients of the Ministry of Sports 2011 Sportsman and Sportswoman of the Year Awards respectively.