New Acting Deputy Governor General for Nevis sworn in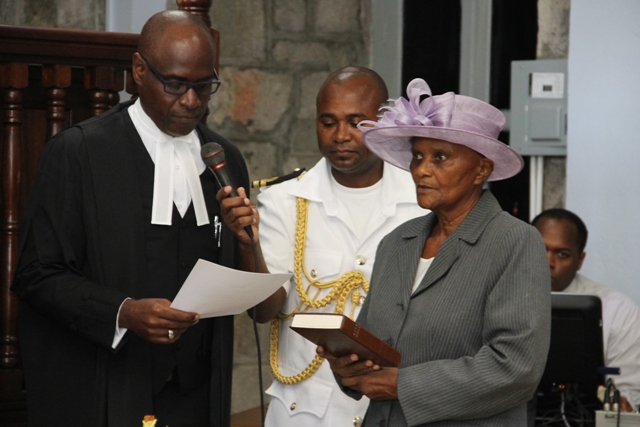 NIA CHARLESTOWN NEVIS (September 01, 2017) — Newly sworn in Acting Deputy Governor General for Nevis Her Honour Mrs. Marjorie Morton CSM, says she is awed by the honour bestowed on her in a position of trust.
Her Honour, who is the first woman to hold the position on Nevis, made the comment moments after Resident High Court Judge in St. Kitts Hon. Justice Trevor Mills QC, administered the Oath of Allegiance and the Oath of Office of Acting Deputy Governor General from September 01, 2017 to December 31, 2017 on her, at a swearing in ceremony at the High Court in Charlestown. On September 01, 2017. The event was presided over by Governor General of St. Kitts and Nevis His Excellency Sir S.W. Tapley Seaton.
"I am indeed awed by the signal honour bestowed on me appointing me in this position of trust. I am always open to ways in which I can give, whether it is to the benefit of the individual or to the country.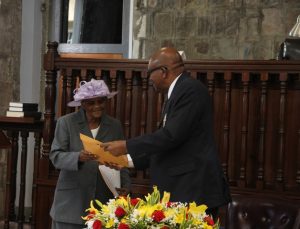 "As I wrestled with the response I should give when asked to serve as acting deputy governor general, the motto of our country kept flashing before me "Country above self," she said.
The new Acting Deputy Governor General, added that some words from Holy Writ also kept surfacing in her thoughts egging her to be strong and accept the position.
Her Honour Mrs. Marjorie Morton made it clear, that serving in the position is not about her. She noted that she is guided by the thought, that whatever she can do for the benefit of mankind, she should not neglect it.
She thanked all for their show of confidence in her, giving her the opportunity to perform the duties of deputy governor general and promised to perform her duties to the best of her ability with God as her helper.
Her Honour Mrs. Morton, also thanked her family for their unwavering support. She also thanked all the people of the land, who in one way or the other offered their congratulations and prayers and to those who will continue to sustain her in their prayers.