New Commissioner of Police meets with Nevis' Premier…NIA Records Support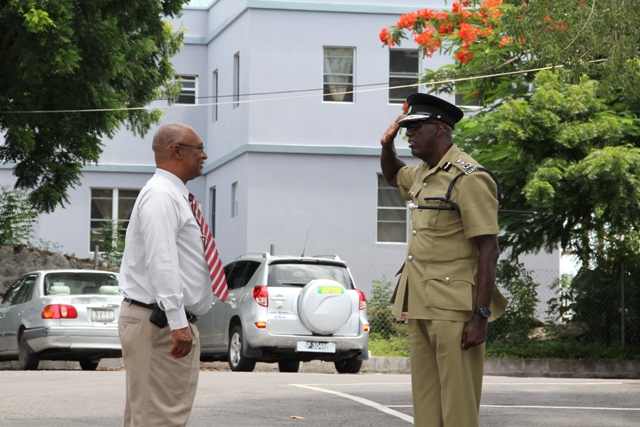 NIA-CHARLESTOWN, NEVIS (September 13TH, 2011) —
Public safety and security has once again been identified as the priority of Nevis' Premier, the Honourable Joseph Parry, and his team of administrators.
Premier Parry, during a recent meeting with newly sworn-in Commissioner of Police [C.O.P] Mr. Celwyn Walwyn, recorded his "100 percent support" of the crime fighting and public safety initiatives of the federation's police force.

"We look forward to a good, healthy, positive and productive relationship," the Nevisian leader said as he engaged the Commissioner in a firm handshake.
The courtesy call, made by C.O.P. Walwyn to Premier Parry, took place last Wednesday [Sept. 7] at Mr. Parry's Bath Hotel office.
Heart-warmed by the welcome, Commissioner Walwyn presented a synopsis of his plans within the federation's police fraternity, underpinning the need to increase criminal convictions.
"I'm going to be using initiatives that would help reduce crime. I've also put initiatives in place to try to reduce crime through forensics using physical evidence to present evidence into court; trying to increase convictions, instead of relying solely on people giving testimony," Commissioner Walwyn said.
With hopes of leading "the police departments of both St. Kitts and Nevis into the next era," the Commissioner said that police officers would be trained more frequently in order to ensure improved service to the communities they serve.
"We have some other things in place," he said, adding that they would not be revealed "for security reasons."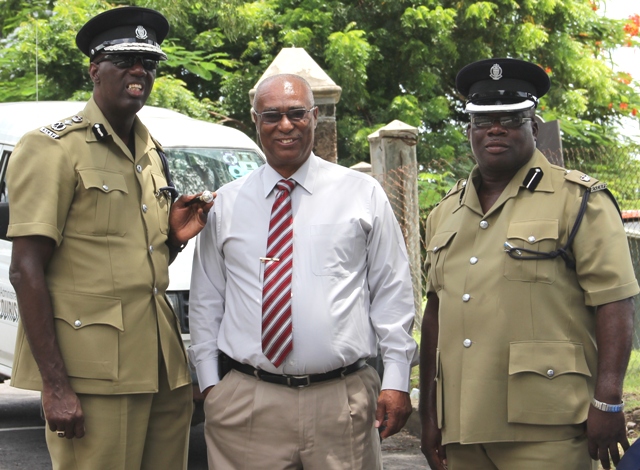 "I can let the people of St. Kitts and Nevis know that there is a change within the administration of the police agency and that the business that they were accustomed to is over and tomorrow is a new day. The future is now and the St. Kitts Nevis Police Department are going to enforce it and embrace it," Commissioner Walwyn said.
C.O.P. Walwyn officially assumed his new role on Aug. 31 during the Passing of the Baton ceremony at the historic Warner Park Stadium on St. Kitts.