New River Farmers Cooperative receives funding from Australian High Commission for cold storage facility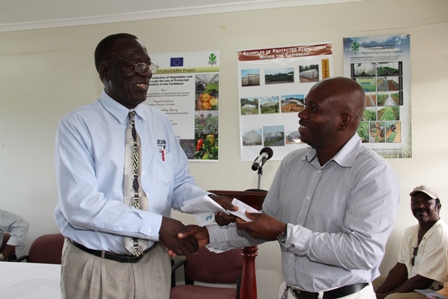 (l-r) Director of the Inter-American Institute for Cooperation on Agriculture for St. Kitts and Nevis Mr. Augustine Merchant presents a symbolic cheque to President of the New River Farmers Cooperative Mr. Marcel Hanley
NIA-CHARLESTOWN NEVIS (June 02, 2011) —
"It's a good day for the farmers at New River!" Those words were expressed by Director of the Inter-American Institute for Cooperation on Agriculture (IICA) for St. Kitts and Nevis Mr. Augustine Merchant, moments before he handed over a US$11,600 cheque on behalf of the Australian High Commission to President of the New River Farmers Cooperative.
The ceremony took place at the Ministry of Agriculture's Conference Room on Thursday. The money was provided under the Commissions Direct Aid Programme (DAP) and went toward the establishment of a walk-in chiller facility at New River Estate. The DAP is a flexible Australian Government Small Grants Scheme for development activities based on the alleviation of basic humanitarian hardship.
"The new facility is expected to boost farmer's confidence and ultimately enhance the productivity of the farmers. It is our hope at IICA that this donation by the Australians would be fully utilised by the farmers and would aid in the development of agriculture here on Nevis," he said.
According to Mr. Merchant, cooling facilities were a valuable asset to any farm operation and a farmer able to cool and store produce had greater market flexibility, because the need to market immediately after harvest was eliminated.
Refrigerated storage, he explained, retarded a number of elements of deterioration in perishable crops. Among those he listed were: aging due to ripening, softening and texture and colour change; undesirable metabolic changes and respiratory heat production; moisture loss and wilting that resulted; spoilage due to invasion by bacteria, fungi and yeasts and the undesirable growth such as sprouting of potatoes.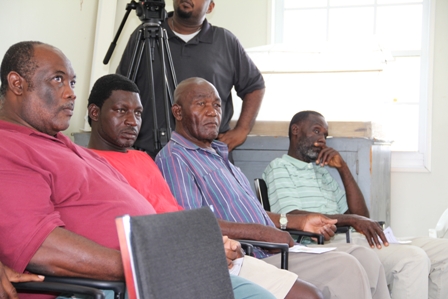 A section of members of the New River Farmers Cooperative at the handing over ceremony
He said it was after a meeting with the Cooperative's President Mr. Marcel Hanley, he was moved to assist the farmers to access funding for a chiller. He noted that Mr. Hanley explained there was water and a number of young persons were willing to farm, however, a major concern outside of the monkeys, was the amount of post harvest lost they experienced.
The IICA Head said after some thought, he approached the Canadian International Development Agency (CIDA) but they had exhausted their funds and were unable to assist.
Mr. Merchant said he next contacted the Australian High Commission based in Trinidad and spoke with the coordinator of projects and impressed upon her the urgency with which the equipment was needed. He said the proposals were submitted the following day and the rest was history.
The 15x10x8 chiller was already ordered from Miami and is expected to be shipped to Nevis shortly.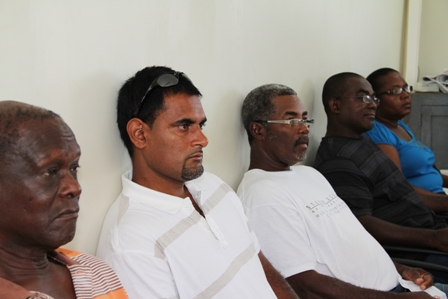 More members of the New River Farmers Cooperative at the handing over ceremony