Newly accredited Swedish Ambassador to SKN; CARICOM pays courtesy call on Nevis Premier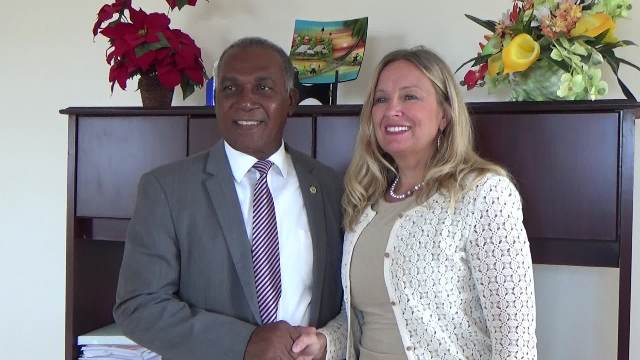 NIA CHARLESTOWN NEVIS (APRIL 20, 2017) — Her Excellency Ms. Elisabeth Eklund, Sweden's newly accredited Ambassador to St. Kitts and Nevis and the rest of Caribbean Community (CARICOM), says she will continue to engage in discussions with St. Kitts and Nevis, to find solutions to global challenges faced by both countries.
She made the comment at the end of her courtesy call on Premier of Nevis Hon. Vance Amory at his Pinney's Estate office on April 20, 2017.
The Swedish Ambassador said her country and the Federation share values, similar approaches to global challenges and they believe in multi-lateral solutions to global challenges.
She described discussions with Mr. Amory on matters of climate change, waste management and the need to cooperate on those issues as interesting.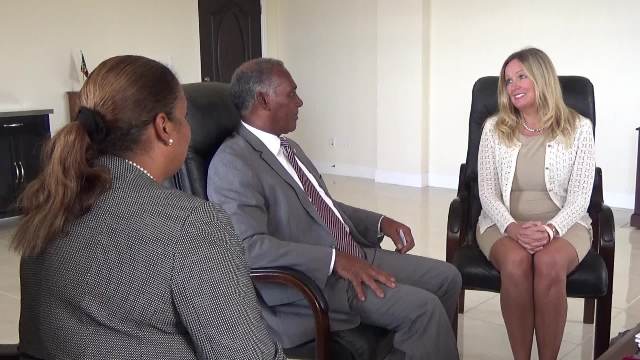 In response, Mr. Amory expressed gratitude for the opportunity to exchange ideas with the ambassador.
"It's an honour for me to have had you meet with us and to share our views on climate change and the matter of how we as small island states, St. Kitts and Nevis, have to manage our resources and manage the environment, especially when it comes to matters of renewable energy which we are pursuing.
"I want to thank you for your insights, on the approach multi-laterally, to deal with something like that. I really do wish you well as our new ambassador of your country and look forward to meeting you again to discuss other issues," he said.
The Ambassador was accompanied on her visit by Dr. Kathleen Allen-Ferdinand, resident Honorary Consul of Sweden to St. Kitts and Nevis.