NIA gifts young accomplished Nevisian athlete with two-bedroom house and land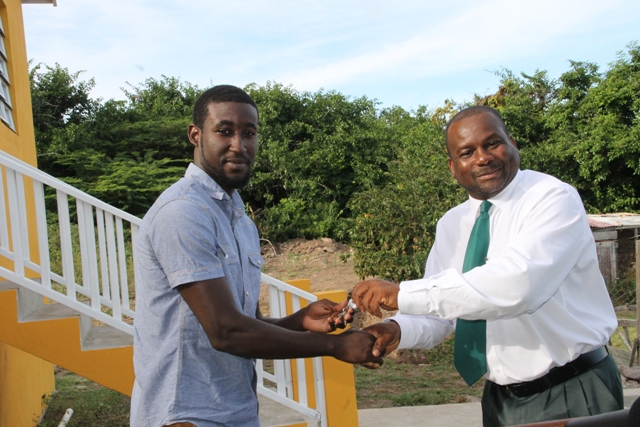 NIA CHARLESTOWN NEVIS (DECEMBER 17, 2015) — Adrian Williams, a young Nevisian athlete who continues to excel in the sport of javelin, says he is pleased, honoured, and privileged to receive the gift of a brand new furnished two-bedroom house from the Ministry of Social Development on Nevis in collaboration with the Nevis Housing and Land Development Corporation (NHLDC), moments after he was presented with the keys from Permanent Secretary in the Ministry of Social Development Keith Glasgow.
The handing over ceremony took place at Eden Brown Estate on December 15, 2015, at the house which is nestled on 5,000 sq. ft. of land. Glasgow handed over the keys after they were presented to him by Minister responsible for Housing and Lands on Nevis and Chairman of the NHLDC Board of Directors Hon. Alexis Jeffers.
Williams thanked the Nevis Island Administration for presenting him with the "monumental gift" which he described as the best Christmas gift ever and said his gratitude could neither be overstated nor overemphasised.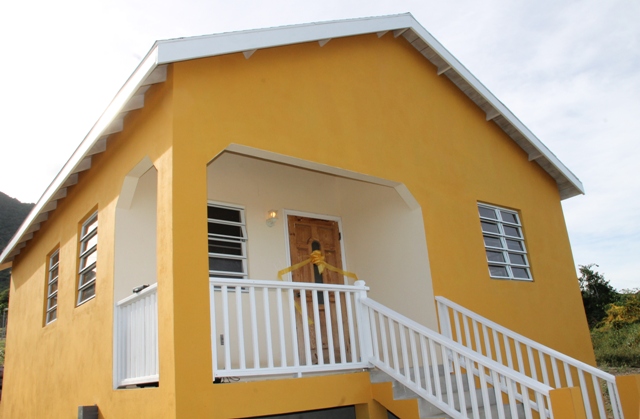 "I assure you that every brick, every mortar, every bag of cement, each grain of sand, every door, every window, all who laboured on this house, all that was required to get this job done are wholeheartedly and sincerely appreciated, not only by me but by my entire family," he said.
He singled out Minister Jeffers whom he noted was relentless in his pursuit of trying to get the house in a state of readiness to be presented to him.
Williams also used the opportunity to thank Lester Blackett and Winston Smith for the time and kind assistance for making the dream become a reality.
He thanked his mother Glenette Williams for all she had done to bring him to the point he has reached in his life.
"I want to thank my mother for being such a positive role model and mentor in my life, for nurturing me into the man I am today, for believing in me even when I didn't believe in myself, for encouraging me at times when I felt like giving up, for supporting me in every form, shape and fashion.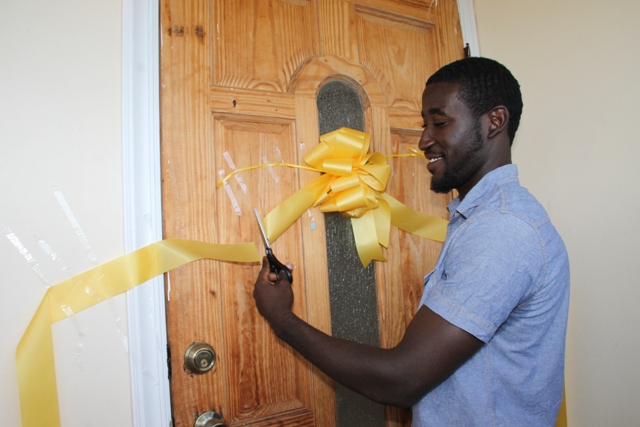 "Mom, if it wasn't for you, I could have never been the success story that I am today, with hopefully more to come. Thank you and I love you very much," he said.
Williams, who is the most accomplished junior athlete on Nevis, also thanked his coaches Wakely Daniel, Denzil "Tuckett" Paris, Colin Walters, Shefton Daniel, Kurvin Wallace and Kevon Charles and all others who worked with him in his tireless training. He thanked them for pushing him to the limit, their patience, diligence and their time.
He also thanked the St. Kitts and Nevis Amateur Athletic Association, the St. Kitts and Nevis National Olympic Committee, the Nevis Amateur Athletic Association and the Gladiators Track Club for their support, guidance and encouragement.
However, Williams did not end without advice for the young men of Nevis. He told them that life was too short and precious to spend their time on the streets wondering what they should do with their lives and urged them to disassociate themselves from violence.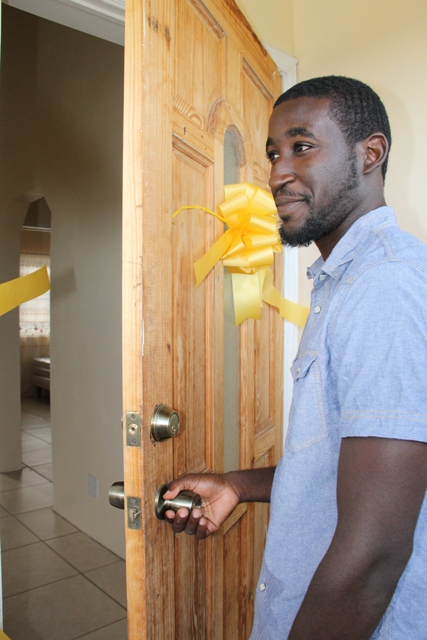 He told them the stalwart citizens of the Federation and the Almighty God would prefer to see the youths become future leaders of St. Kitts and Nevis instead of becoming future bandits.
"Let us make a change; let us together anoint each other. Let not procrastination get the best of you. Don't just sit there and wait for something to happen. Get up and go after what you need in life. Good things come to those who wait but better things come to those who go after it," he said.
Williams emphasised that the real danger does not lie in not reaching goals but in not having any goals to reach. He encouraged the youth to be objective, set goals and to ensure they have a plan because if they don't have one it only means they plan to fail.
In conclusion, he told the youth they should be persistent and never give up.
"You can never be a victor in anything you do, if you throw in the towel and quit. Go for what you need but make sure you do it in a positive way," he said.
The keys to the house were first presented to Mr. Glasgow by Minister Jeffers before they were presented to Williams. The house was furnished in partnership with the St. Kitts-Nevis-Anguilla Trading and Development Company (TDC) and S.L. Horsford & Co. Ltd.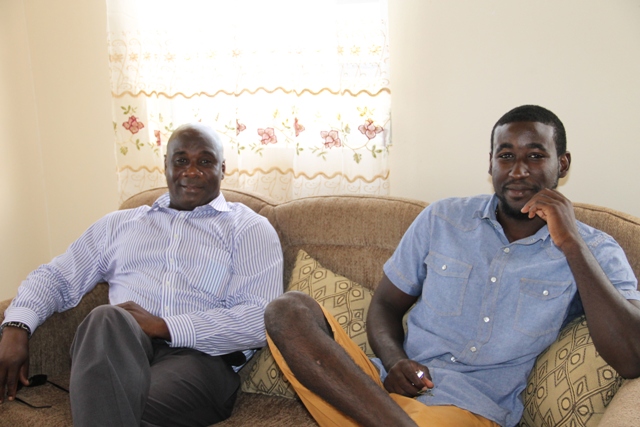 Also present at the ceremony was Pastor of the First Baptist Church Oral Brandy who blessed the house, Lester Blackett and Williams' sister.