NIA remains committed to development of geothermal energy while Nevisians benefit from wind energy, says Minister Powell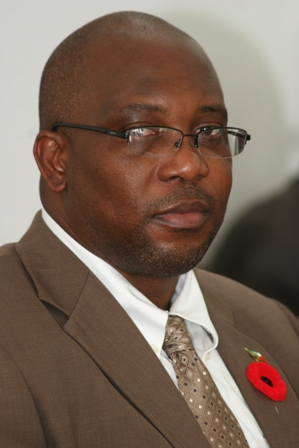 Minister responsible for Communications, Works, Renewable Energy and Environment Hon. Carlisle Powell gives updates on matters under his portfolio, at a sitting of the Nevis Island Assembly on Tuesday
CHARLESTOWN NEVIS (November 09, 2010) — Minister responsible for Communications, Works, Renewable Energy and Environment Hon. Carlisle Powell told a Sitting of the Nevis Island Assembly on Tuesday, that the Nevis Reformation Party (NRP)-led Nevis Island Administration (NIA), remained committed to the development and delivery of geothermal energy to the people of Nevis and the sub region.
Mr. Powell's statement came while he delivered a report on updates related to matters which fell under his responsibility. He said while the NIA acknowledged some slippage in the development schedule, activities in Nevis were not divorced from business in the rest of the world.
"We know that big business including banks, insurance companies and even countries have to refinance and restructure. It is a fact of life that we are just emerging from a financial crisis, the likes of which the world last saw in the great depression.
"Madame President, Geothermal is too important to the future of this island for people to be praying that it fails. It is a Nevis project and we need all hands on deck. When President Bill Clinton and his Secretary of State wife Hillary Clinton can refer to the geothermal developments here; when the World Bank Caribbean Interconnect study can base the model on geothermal in Nevis, we know that we [NIA] are on the right path," he said.
The Minister assured that no matter the challenges, they would be overcome and that the Ministers in the present NIA were of the firm view, that geothermal was of critical importance to the future development of Nevis and would do whatever was necessary to successfully complete the project.
With regard to wind energy, Mr. Powell disclosed that Nevisians continued to benefit from the clean, green renewable energy generated by the WindWatt Wind Farm at Maddens earlier this year.
"I am advised by the Nevis Electricity Company Ltd (NEVLEC) that at the end of the testing and commissioning phase, when we zeroed the meters, we had used some 320,000KWH. At our last reading at month end [October], we have used another 644,600KWH or a total of 964,600KWH.
"We are set to pass the significant milestone of 1million KWH sometime this week. This Wind Farm represents another successful project brought by this NRP Government," he said.
The Wind Farm made history when it was officially commissioned on August 27th 2010 making it the first island in the Organisation of Eastern Caribbean States (OECS) and the second in the Caribbean Community (CARICOM) with renewable wind-generated energy.
Mr. Powell said Nevis' leading role in the pursuit of renewable energy had attracted attention from far and wide but most importantly the wind farm was working to provide the people of Nevis with clean, green renewable energy.