NIA serious about island's security and safety; installs security surveillance equipment at CSS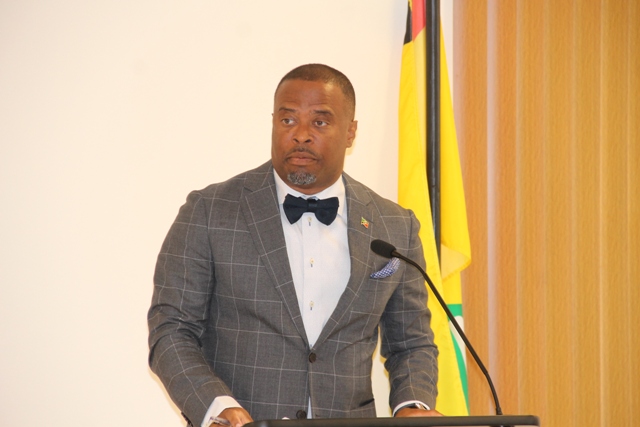 NIA CHARLESTOWN NEVIS (June 04, 2018) — The Nevis Island Administration (NIA) has installed security surveillance equipment at the Charlestown Secondary School (CSS) and is seeking to do the same at the Gingerland Secondary School (GSS).
Hon. Mark Brantley, Premier of Nevis and Minister of Education and also of Security, made the disclosure recently at his monthly press conference at the NIA Cabinet Room at Pinney's Estate.
"The Ministry of Education is indicating that they have invested quite heavily and that the Charlestown Secondary School is now equipped with camera surveillance which is live, which is recording, which is being monitored. I am told we have 18 cameras installed there with the capacity to expand to expand up to 64. The system is functional. It is recording footage at the present.
"We will quickly seek to do so at the Gingerland Secondary School as well," he said.
However, Mr. Brantley indicated he was making the announcement with a heavy heart because of the cost involved, funds which could have been spent in other areas related to education.
"We could have bought books, for example, but here we are being forced to buy security surveillance equipment because of the behaviour we have seen in our schools and so, it is bitter sweet in that sense," he said.
The Minister of Education called on parents to manage their children and teach them the necessary values. He also encouraged teachers to continue to do their best with students placed in their care.
He also urged students, parents and teachers to conduct themselves in a manner which would suggest that purchasing the equipment was an unnecessary venture even though they were installed to enhance safety and security.
Meantime, Mr. Brantley stated that the installation of the security equipment demonstrates the NIA's overall commitment to safety, security and law enforcement on Nevis.
"The cameras will act as a deterrent, we hope, to bad behaviour but where there is bad behaviour, we hope that the cameras will act as one of the tools to help us unearth the culprits who might have engaged in that bad behaviour.
"My hope would be that the cameras prove useless in the sense that there is no one to be captured on them doing anything untoward," he said.