Nursing Home Staff Praised at Eileen Blackett's Birthday Celebration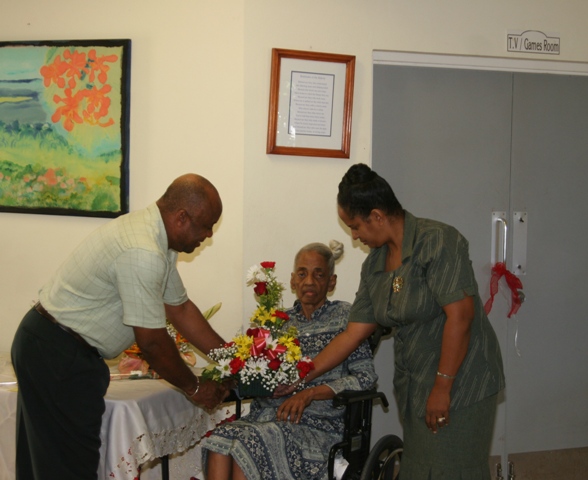 Minister of Social Development in the Nevis Island Administration the Honourable Hensley Daniel presents Mrs. Eileen Blackett with a bouquet of flowers in the presence of her daughter Mrs. Carla Liburd.
NIA-CHARLESTOWN, NEVIS (March 16TH, 2011) — "My mom has been here for over a year and you can see by her looks she's well taken care of. I just want to say thank you very much," Mrs. Carla Liburd said to the nurses and ancillary staff at the Alexandra Hospital's Flamboyant Nursing Home.
Mrs. Liburd's comment came at the Feb. 23 celebration of her mother's 81st birthday which attracted the participation of her sister, niece, the nursing home's residents and staff and Nevis' Minister of Social Development, the Honourable Hensley Daniel.
"I just want to say thank you to God for allowing mom to reach her 81st birthday, also to Minister Daniel for his kind gesture and I am also going to say thanks to the management and staff, nurses, cooks, maids and orderly for taking good care of my mom," Mrs. Liburd said.
Mrs. Blackett's birthday celebration, according to Minister Daniel, fell in line with the Ministry of Social Development's commitment towards "giving people their flowers while they are alive."
Described as "a pillar of the Charlestown Wesleyan Holiness Church" by Minister Daniel, Mrs. Blackett served as manager of the Nevis Cooperative Credit Union and conducted piano lessons for Nevisians from her Bath Village home.
"She doesn't look 81 in her face and I presume with the kind of care that is provided here at the Flamboyant Home that she will look even younger in time to come," Minister Daniel said of the birthday celebrant as he spoke of her contribution to the Nevisian community.
The Ministry of Social Development's seniors' birthday recognition programme, according to Minister Daniel "is intended to make sure that as the senior citizens near the distal end of the life course, they will be showered with appreciation and love."
Mrs. Blackett was presented with a certificate in recognition of her 81st birthday and "for her outstanding contribution to the development of Nevis."