Parry says Day of Prayer was a success; was not political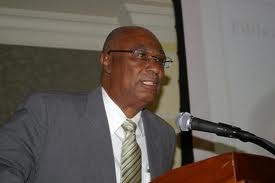 Charlestown Nevis (Wednesday,April 18, 2012) —
Premier of Nevis, the Hon Joseph Parry, has registered his pleasure that the service held at the Charlestown Methodist Church as part of Monday's (April 16) Day of Prayer and Fasting was a success. He said that the Service was not political, having been organized long before the decision of the recent election petition hearing was handed down – contrary to some people's thinking.
"I thank all those who came last night (Monday) and I hope that we continue to spread the word," said Premier Parry on Tuesday, April 17 while addressing the nation on his weekly radio program In Touch With the Premier on Choice 105.3 FM and other radio stations in the Federation.
"Let me say this, that it was not a political prayer session," commented the Premier. "There was no intention of making politics out of it, and in fact it was organized before the decision of the court case came down.
"Those who organized it know that, and one gentleman this morning (on Choice 105.3 FM) made that point very passionately, that it was not something that was associated with the court case. It was something that was associated with the people of Nevis, and bringing people together, and focusing on worship, togetherness and oneness."
According to the Premier, the Service held at the Methodist Church in the evening was attended by between 100 and 150 persons. He said that kind of attendance for such a service is not usual, as usually it might be smaller than that. He said he was very pleased with the attendance and the participation.
"When we speak of success, success is not measured in numbers, I hope, or with how many people prayed," explained Premier Parry. "I am very positive about everything that happened with the prayer (session). People were listening abroad, churches were opened yesterday, and I understand people all around the island went to the churches and prayed."
He explained that the success of the Day of Prayer will be measured over the upcoming weeks and months and a year or so, noting that his Government is seeking to bring people together to create a sense of oneness and healing, and to make people realize even if they disagree, it does not mean that they cannot get along.
"People can disagree and get along; people can have differences of opinion and still get along," observed the Premier. "Those are the kinds of things we want to get out there, and also of course that we are a Christian society, and that we should behave in a Christian manner towards each other, even when we disagree; even when we feel we have problems."
He noted that participation was very strong and there was a lot of feeling in the church and the minister, Pastor Dalton Grenyion, touched on issues of family; the importance of having respect for oneself, one's wife and children, and one's community.
"He (Pastor Grenyion) connected those," observed the Premier. "If you respect your children, you will take care of them. You make sure they are properly brought up, and that they do not end up as delinquents on the streets. A lot of things he was talking about, having basic values which we have abandoned and maybe which we need to revisit, to recover and to practise."
He added that it was interesting when the Pastor used the example of a gentleman who got a job and then gave the job to his girlfriend who was a bar-maid, a job that she could not do and wasted funds. "I think the point he was really making is that people need to be responsible, and it is something that we have always said if you want authority, you must also act responsibly; authority with responsibility." noted the Premier.
Premier Parry personally thanked Mrs. Viola Dore for praying for him on Monday, and also for her having called on Tuesday morning to Choice 105.3 FM to offer further prayers. He was surprised that Mrs. Dore knew him and his family very well, but on checking with her son (Wrenford), he was told that she lived in Cotton Ground (Parry's home town) for a while.
His appeal was that people would realize that the intention of the event was quite sincere, and without any form of deception, and wished for people to continue to think in that vein. He reminded that the hurricane season is coming up, and the fact the country still faced problems with youth delinquency and gangs, and parents having problems with their control. He advised that the country needs to make sure that people are discouraged from getting involved with crime and criminal acts.
"I hope out of this would come a movement outwards," said the Premier in his summary. "A movement outward in terms of continuing prayer and intercession with God; a movement outward in terms of reaching out to your fellow man; a movement outward in terms of our behavior, our conduct and our character. That is how I feel about that exercise yesterday and I thank all those who assisted or were involved."