Personalised touch and treatment – distinguishing factors of Nevis Tourism Product, says Deputy Premier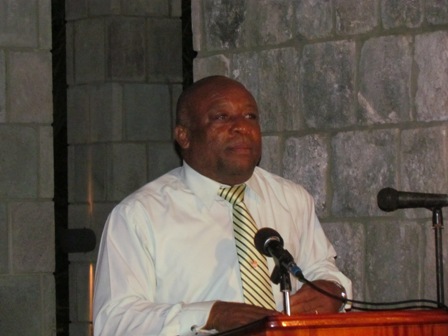 NIA-CHARLESTOWN NEVIS (December 09, 2011) —
A personalised touch and treatment have been described as distinguishing factors which continue to lure visitors to Nevis. That view was expressed by Deputy Premier of Nevis Hon. Hensley Daniel when he delivered remarks at the Hotel and Tourism Association's (HTA) Awards Ceremony at the Old Manor Hotel in Gingerland.
The event hosted by the Association's Nevis Division on November 30, 2011, was the second annual ceremony held to honour persons who contributed to the continued development of the tourism industry on Nevis in the past year.
Mr. Daniel, who stood in for Premier of Nevis Hon. Joseph Parry, used the opportunity to urge those who had the courage to run guest houses and hotels given the many challenges and a global recession to push on.
"We are in a recession and one that is global and to have people come to Nevis despite the recession we have to thank them. I want to pause and thank all those persons who are operating hotels, guest houses and every single facility that accommodates our visitors, to say to you please continue to do what you are doing and please continue to beat the competition.
"I often say that we can find hotels everywhere but I think we don't find the people of Nevis everywhere. I think the distinguishing factor is that the workers at our hotels, guest houses and allied services are what make the difference in the tourism industry because if I am looking for a beach I can go anywhere in the Caribbean. If I am looking for a hotel I can go just about anywhere in the world but if I am looking for a special type of accommodation and a special kind of treatment I come to Nevis," he said.
Mr. Daniel also lauded the efforts of the tourism related proprietors and said the Nevis Island Administration (NIA) was mindful of their contribution to the Nevis economy.
Notwithstanding, he noted that the Administration was looking forward to the development of other areas in tourism namely medical, spa and sports, all areas that would help to attract a greater number of visitors to Nevis.
All areas of the economy were affected by tourism, he explained, and challenged the HTA to find a way to bring everyone under one net so that they too recognised the importance of the tourism dollar.
However, Mr. Daniel stated that he was mindful of the efforts being made to teach the young people of Nevis the importance of tourism in schools and spoke to the many students who were abroad pursuing tertiary education.
"When I look at the profiles of the persons studying abroad, we have some 170 of them [and] I see quite a number interested in the hotel and tourism industry or in the hospitality services.
"I want to say to you, those of you who are running the hotels and guest houses, that in time you will have trained people to help you to move forward upwards and onwards," he said.
The Deputy Premier further stated that he was persuaded that Nevis had the means by which it could continue to attract people from Europe, North America and Asia but that new vistas had to be looked at to attract new visitors from different parts of the world.
To the 10 awardees Mr. Daniel he said they should always be reminded that their personalised touch and their personalised attention would always make the difference in the island's tourism product.
"We will never be able to have enough money to market Nevis in the tourism market. However, I believe we can save marketing dollars by personalising the attention so that we have several repeat visitors in our island.
"I want again to say, that this is a great opportunity for the awardees to continue to help us to make the difference because in an environment like this, I want to see more money roll in the Treasury so that I can find money to do all the other things that we need to do to sustain education and health and several other areas," he said.