Premier Brantley, Attorney General Wilkin tour Nevis Land Registry Department's new location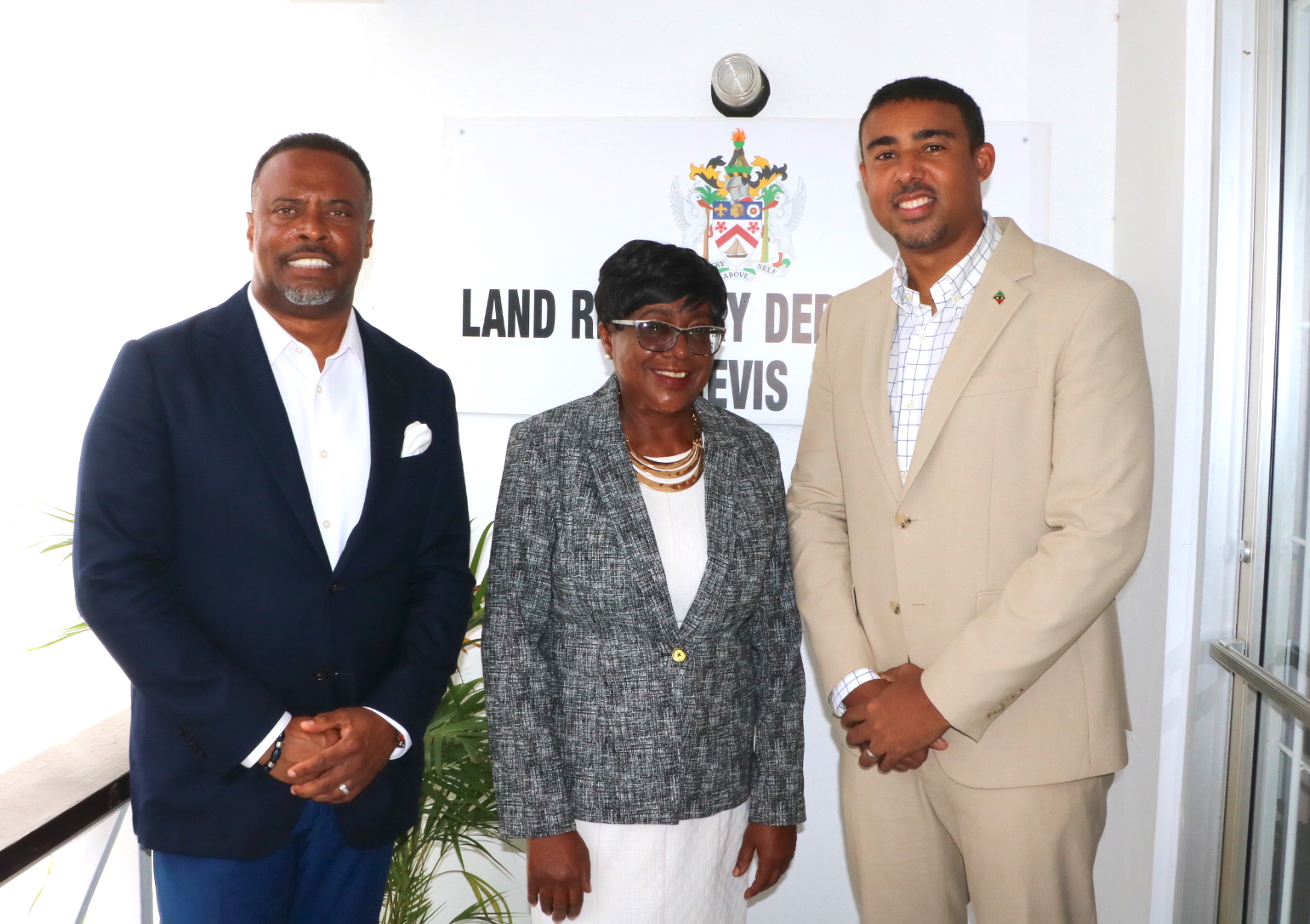 NIA CHARLESTOWN NEVIS (July 21, 2023) – Premier of Nevis the Honourable Mark Brantley and Attorney General of St. Kitts and Nevis the Honourable Garth Wilkin toured the new location for the Nevis Land Registry Department on Friday, July 21, and have expressed their satisfaction with the new office space.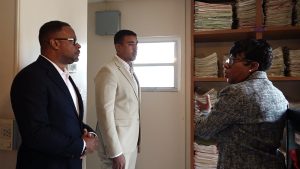 The Land Registry Department relocated from the courthouse complex in May 2023 and now occupies offices upstairs the R.G. Solomon Arcade in downtown Charlestown.
Premier Brantley said, "I was very impressed with what I've seen. This for me is a giant leap forward for the Registry. People are accustomed to having the Registry attached to the High Court Registry; it was quite cramped, it was uncomfortable and this now gives us a stand-alone space for the Land Registry. I think we are better able now to serve the public and the legal fraternity, and I do believe that this is an excellent initiative and an excellent step forward.
"I hope that this new facility will be put to excellent use. As you see today our people should be able to access their land papers and titles and to do so in a way that is secure and in an environment that is far more efficacious and far more comfortable and professional."
Premier Brantley thanked the Attorney General and his staff at the Ministry of Justice and Legal Affairs for their role in having the Land Registry relocated, as well as the Registrar Ms. Dawn Chambers Myers and Permanent Secretary in the Premier's Ministry Mr. Wakely Daniel for their tireless efforts in making the move a reality.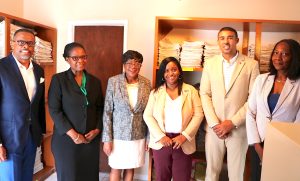 Hon. Wilkin was well pleased with the new space for the Land Registry, saying "It is the goal of the Executive always to be efficient and create an environment where persons who want access to their land documents can do it in an efficient and comfortable way.
"It's very important for the Federal Ministry of Justice to ensure that people can get their titles processed and they can have a home now other than going to the High Court Registry to process and do searches and it's much more comfortable also for the lawyers so we are happy that we could collaborate on this…It's spacious, it's comfortable for the lawyers, the staff seems comfortable, so it's pleasing to the Federal Government to see this come to fruition."
Registrar of Lands Mrs. Dawn Chambers Myers led the walk through of the offices and introduced the Attorney General to members of staff. Also present for the walk-through were Ms. Diana Francis, Permanent Secretary in the Federal Ministry of Justice and Legal Affairs; Ms. Shelley Isles, Assistant Registrar; Mrs. Michele Herbert, Senior Clerk in the Nevis land Registry Department; and Permanent Secretary Daniel.