Premier Brantley meets with Republic of China (Taiwan) delegation to advance discussions on a national park for Nevis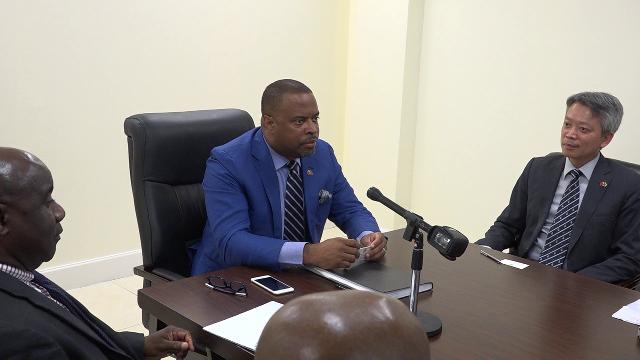 NIA CHARLESTOWN NEVIS (September 04, 2018) — A delegation for the Republic of China (Taiwan) led by Resident Ambassador to St. Kitts and Nevis His Excellency Tom Lee, met with a team from the Nevis Island Administration (NIA) led by Premier of Nevis Hon. Mark Brantley on September 04, 2018, at the conference room at Pinney's Estate to advance discussions for the development of a national park in close proximity to Pinney's Beach.
Ambassador Lee, who acknowledged the bond between both countries said his government considers the project an important one.
"Our government considers this a very important project. That's why we sent a team. They arrived last week and they came to Nevis last Friday and they started working immediately, so they have been here five days. They have been to the site several times so I believe they have something concrete to discuss," he said.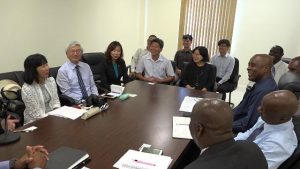 The eight member delegation comprised of Professors Monica-Kuo, Dean of the Department of Landscape Architecture at the Chinese Cultural University in Taipei and Wen-Yan Chiu of the Taiwan Ocean University and Ms. Molly Yang International Cooperation and Development Fund (ICDF) Specialist, Ms. Cynthia Lee-Ling Hung, First Secretary at the Embassy of the Republic of China (Taiwan) in St. Kitts and Nevis and five members of the technical team from the Taiwan Technical Mission in St. Kitts and Nevis
Mr. Brantley reiterated the strong relationship shared by both countries for the past 35 years and described it as an excellent relationship based on genuine friendship, which continues to be of mutual benefit.
"It has really been one based on genuine friendship. We have worked really well together over the years and you have provided invaluable assistance to our country, particularly in terms of the development of our people.
"As I speak, we have a new batch of students who recently arrived in Taipei to undertake studies, many of whom would not have been able to do so were it not for the generosity of your government and people and so, at every chance that I get I like to express our own gratitude to the government and people, and I ask His Excellency to convey to the government our warm appreciation of your continued assistance," he said.
The Premier stated that the generosity of the Republic of China (Taiwan) is an ongoing one and they are about to undertake the Pinney's Park Project which is important to Nevis and indicated how they got involved.
"We have a large parcel of land…which we would like to transform into a national park, to have a place of leisure and comfort for our people, where our people can relax, maybe do a little jogging, yoga, exercise, whatever it may be, so that they could be fit like His Excellency, in good shape.
"So we are approached the Foreign Minister who was quite pleased and it is also important for us…that we created some symbol of our long lasting relationship and friendship, that something we can agree upon, would be put there as a lasting memory of this relationship," he said.
Later, a team met with Hon. Alexis Jeffers, Deputy Premier of Nevis to further discussions on the matter.
Accompanying Mr. Brantley at the meeting were Mr. Jeffers who is also the Minister of Agriculture and Lands, Mr. Wakely Daniel; Permanent secretary in the Premier's Ministry; Mr. Stedmond Tross, Senior Advisor to the NIA and Cabinet Secretary, Mr. Colin Dore, Permanent Secretary in the Ministry of Finance; and Mr John Hanley, Acting Permanent Secretary in the Ministry of Tourism