Premier Brantley welcomes Nevis' most acclaimed cultural ambassador home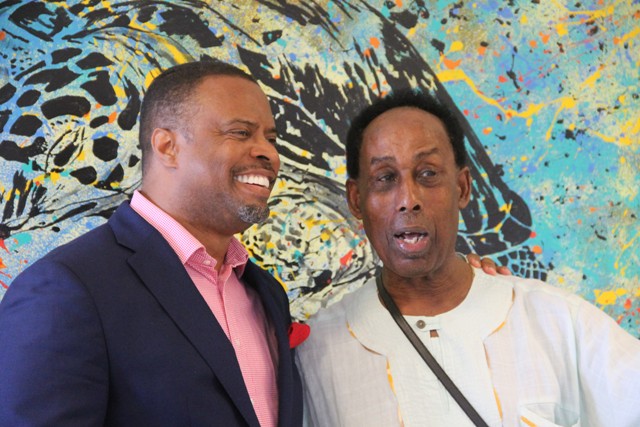 NIA CHARLESTOWN NEVIS (July 25, 2018) — Hon. Mark Brantley, Premier of Nevis, welcomed Nevisian born Dr. Arthur France MBE to Nevis at his Pinney's Estate Office when the celebrated son of the soil who resides in Leeds, England paid him a courtesy visit on July 25, 2018.
"I just want to extend very warm greetings to Mr. Arthur France MBE who is quite famous not only in England but here as well. He is the man credited for founding the Leeds Carnival…
"We really welcome you home. This is not welcome to Nevis. This is welcome home. We are delighted to have you here with us," he said after locking in a warm and friendly embrace.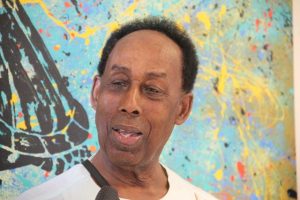 Dr. France who is in Nevis with his wife and grandchildren, at the invitation of the Nevis Island Administration, will officially declare the 44th Culturama festivities open during the opening ceremony at the Cultural Village on Thursday, July 26, 2018. The festivities will conclude on August 7, 2018 with the theme "Fete, Food & Folklore, Culturama 44!" under the patronage of Mr. Cleffrin "Shine" Daniel of Fountain Village.
In response to Premier Brantley's welcome, he said he was honoured to be back home.
"For me it's a pleasure and an honour to be here because Nevis is the island that shaped my destiny…
"I was born in Nevis. I had a great mother and father and I think the education system in Nevis is second to none and that's what made me the person I am…The teachers and in our culture, the community brings up the child not just the parents and this is what the world is losing out on," he said.
In 2017, Dr. France was honoured by the NIA during the 50th anniversary of the Leeds West Indian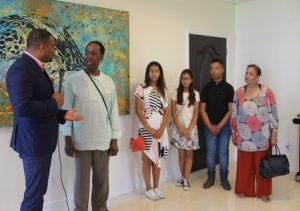 Carnival. A team comprising of a cross section of cultural performers accompanied by then Premier of Nevis, presented Mr. France with a plaque in recognition of his contribution to Nevis culture.
The celebrated Nevisian was born in Mount Lily but migrated to England in 1957. He recalled that as a child at the age of five years he was walking the village road holding on to his mother's dress when he listened to the Big Drum coming up the road and he never got it out of his head.
He said he always wanted to play but his parents wouldn't let him. It was not until he migrated he was able to fulfil that dream and after many hurdles and his determination what began as a small cultural event with others from the Caribbean, evolved into the famous West Indian Carnival in Leeds. An event which has, over time, become the most prevalent carnival in Europe.