Premier congratulates perspective teacher trainees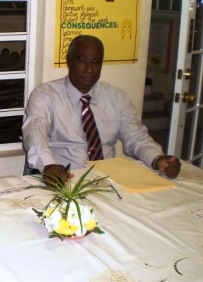 Premier of Nevis, Hon. Joseph Parry
(CHARLESTOWN, NEVIS–Wednesday, July 7th, 2010) Premier of Nevis, the Hon. Joseph Parry underscored the need for teachers to assist students to become independent thinkers. He made the statement at the closing ceremony of the annual Prospective Teacher's Training Course 2010. The event was held on Friday at the Department of Education in Marion Heights.
Held under the theme, "Learn it, Teach it, Live it", Premier Parry told the participants that they should strive to teach their students to utilize what they had learnt, to become thinkers and challengers of matters they would find unjust or difficult.
"Teachers must be supportive of students who have opinions and independent ideas. Teachers must not discourage but embrace it," stated Premier Parry.
During the ceremony, Premier Parry also appealed to teachers to work in collaboration with parents since that partnership would help them to achieve the best from the students.
He told the teachers that they should not show that they were superior to parents who were illiterate. Mr. Parry said they should not take advantage of parents in such situations but instead use the opportunity to assist them. In the future they would be armed with new knowledge which would position them to assist their children.
"You might come across parents who cannot read, you might come across parents who can only write their names. It is important that you show support to the parents as well as the students," said the Premier.
He also informed the teachers of the importance of allowing students a chance to thrive, irrespective of what level their learning ability was. According to Premier Parry, parents and teachers needed to work harder to get students to perform better.
"There is a reading program put forth by the Minister of Social Services and as it is an excellent program. It embraces parents and students to work together and improve their reading", stated the Premier.
Hon. Parry added that the recognition of the reading programme's achievements by the highest level of the Ministry of Social Services was due to the hard work of persons involved in the project since its inception, including government staff, teachers and parents.
Premier Parry concluded that it was important for the graduates of the 2010 Prospective Teachers Course, to celebrate the calling to join which he described as the society's grand profession because of the important role it played in the development of young lives.