Premier of Nevis' hails Iceland visit a success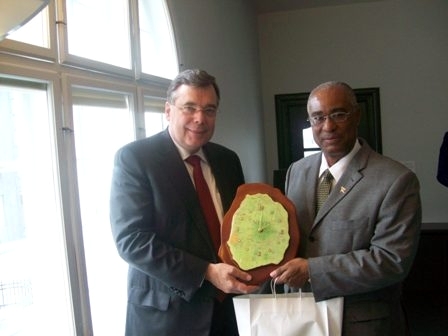 Premier of Nevis Hon. Joseph Parry led a delegation to Iceland from August 17th- 20th, 2008 and described the visit as successful.  The mission was to acquire first hand experience of geothermal plants at work, hold discussions with geothermal plant operators, and to meet with officials which included the Prime Minister and members of the government and the Icelandic International
Development Agency (ICEIDA).  Iceland has had experience with the natural resource for over half a century.
"We were able to meet the important players in the geothermal industry and outline our interest and obtain technical assistance to guide us with West Indies Power Ltd.(the company presently on Nevis drilling for geothermal energy).
 
"We were also informed that geothermal energy is inexpensive, costing about 10 cents per kilowatt in Iceland. All in all I must say the trip was a success and we look forward to a continued relationship with Iceland," Premier Parry said.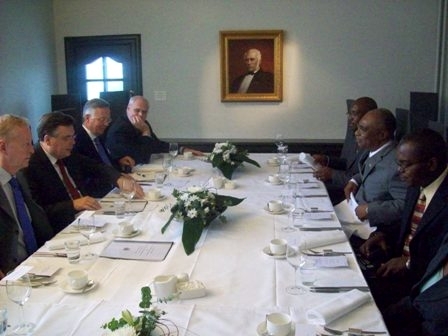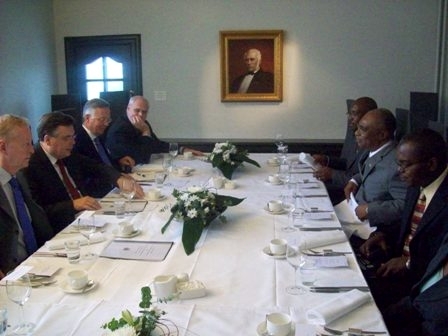 The delegation included the Natural Resources and Environment, Hon. Carlisle Powell, Permanent Secretary, Mr. Ernie Stapleton and Protocol Officer, Ms Angelica Elliott.
 
At the invitation of the Prime Minister of Iceland, H.E Mr. Geir H. Haarde, Premier Parry and his team attended a luncheon meeting at the Culture House in Reykjavik, where discussions included a team of senior government officials and a member of the ICEIDA. They all congratulated Premier Parry on his bold step to advance geothermal explorations and development on Nevis.
 
During the two day mission, the Premier and his delegation also met with other agencies which included The National Energy Authority and the Iceland GeoSurvey. They also met with officials of educational institutions, such as the United Nations University which specialised in Geothermal Training and the Reykjavik Energy Graduate School of Sustainable Systems.
 
Premier Parry also held talks with private owned companies such as ENEX and Geysir Green Energy, both of which have a keen interest in geothermal.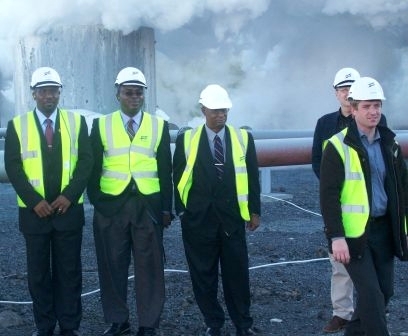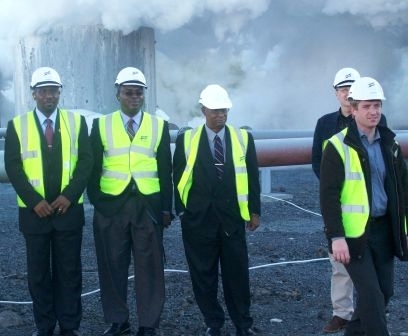 The Nevis delegation gleaned a wealth of additional information when they toured a number of geothermal plants, where senior officials made presentations on their history, development and operation.
 It is expected that over the next few months, the Icelandic Government, through the National Energy Agency and the ICEIDA would provide technical assistance, consultancy and advice to the Nevis Island Administration (NIA). This would include visits to Nevis from experts in geothermal operations in Iceland.
 
The NIA planned to continue to hold discussions with the various educational institutions in Iceland in order to provide higher learning and training opportunities in geothermal for residents of Nevis.
 
The Premier and his delegation returned to Nevis on Thursday,August 21st, 2008.
 
 Premier of Nevis Hon Joseph Parry (third from left) and his delegation during a guided tour at a
 power plant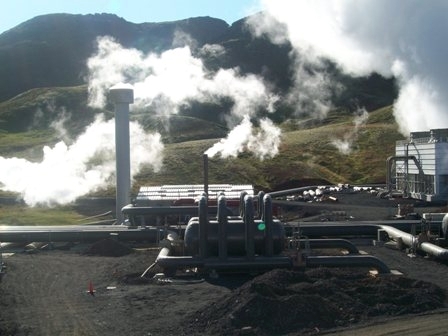 A geothermal power plant in Iceland, releases clean energy