Relationship between St. Kitts and Nevis has never been better, says Nevis Premier Brantley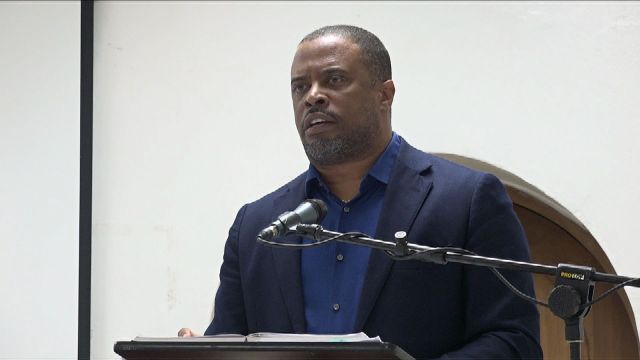 NIA CHARLESTOWN NEVIS (February 19, 2019) — Hon. Mark Brantley, Premier of Nevis, believes the relationship between St. Kitts and Nevis has never been better than what exists today.
Mr. Brantley, who is also the Federal Minister of Foreign Affairs and Aviation, articulated that belief when he delivered remarks at a public consultation hosted by the Federal Government, the Team Unity Administration, at the St. Paul's Anglican Church Hall on February 19, 2019. It was one of the activities held in Nevis as part of its 4th anniversary celebrations.
"Just today the Federal Cabinet met in Nevis. That may seem to some purely symbolic but it is important symbolism…It was the Federal Cabinet's choosing to meet on the island of Nevis and to have its deliberations here.
"It was an historic day because we met and received a report from the National Marijuana Commission…the fact that that happened is symbolic in my view of the relationship that has been developed and is now on full display," he said.
The Premier listed a number of areas to remind the people of Nevis of how they have benefited from the relationship between the Nevis Island Administration and the Federal Government in the past four years.
He pointed to the water taxi pier under construction at Oualie; the advancements made in the geothermal project; the construction of the Nevis Athletic Stadium at Low Ground;  refurbishment of the runway, and the installation of modern equipment at the Air Traffic Control Tower at the Vance W. Amory International Airport; construction of a new wing at the Alexandra Hospital; equipment for the Long Point Port; a new generator for the Nevis Electricity Company Limited, construction of the new Treasury building in Charlestown and the ongoing water project unfolding throughout Nevis.
Mr. Brantley added that through the relationship the people of Nevis have also benefited like their counterparts in St. Kitts, from three successive double salary payments to public servants.
The Premier also urged persons to take advantage of opportunities which continue to come about through the progress in the Federation.
"I want our people to stop seeing themselves purely as 'I'm Nevisian and I'm Kittitian', … Our people need to get to the point where we grab opportunity wherever it arises in our country, and when we sit down as a Cabinet, we are looking at the country and saying that opportunity must be provided for every person and wherever they are they must be willing to seize the opportunity.
"That is my simple message to you that ultimately, if Unity is to fulfil its purpose, it must be that our people start to see themselves as having the capacity and the ability to take advantage of every single opportunity," he said.