Russian delegation meets with SKN Foreign Affairs Minister; seeking support for bid to host Expo 2025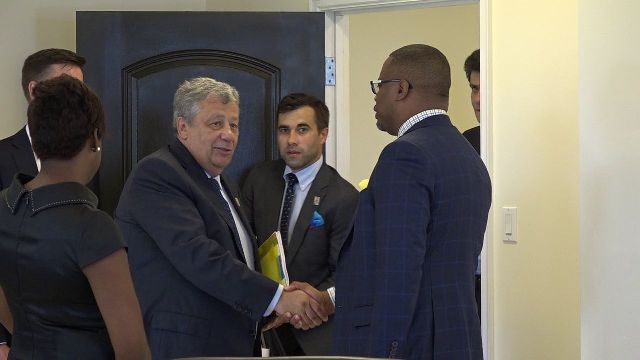 NIA CHARLESTOWN NEVIS (August 23, 2018) — A delegation from the Russian Federation, headed by Mr. Arkady Chenertsky, First Deputy Chair of the Russian Federation Council Committee on Federal Structure, Regional Policy, Local Government and Northern Affairs, met with Hon. Mark Brantley, Minister of Foreign Affairs and Premier of Nevis on August 21, 2018, in an effort to advance the relationship between St. Kitts and Nevis and Russia.
Mr. Brantley, welcomed the delegation to his Pinney's Estate office and underscored the importance of the relationship both countries shared.
"The relationship between St. Kitts and Nevis and Russia has been a very good relationship which recently, our people would know, was given greater strength when I was able to sign in the margins of the United Nations last year, a visa waiver agreement with your Foreign Minister His Excellency Sergei Lavrov.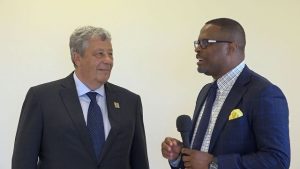 "For us this relationship is very important and we are thankful… We want to welcome you to St. Kitts and Nevis perhaps for the first time but… more specifically to the island of Nevis. This is my island and so I welcome you to my island Nevis as well. So thank you very much for being here," he said.
Mr. Chenertsky, speaking through an interpreter, extended greetings to the people of St. Kitts and Nevis from Russia.
He noted that the visit was to encourage the Federation to support his country's bid to host Expo 2025 in the Russian city of Ekateruburg.
"We've come this long way to make a presentation of our bid of our candidacy to host the world Expo in 2025 and as you rightfully mentioned, this agreement of last year really give fresh impetus to our bilateral relations and we highly welcome it and we believe there will be more opportunities for us to develop our bilateral relations in the future.
"We are ready, besides this presentation, to discuss on other matters of our cooperation for example tourism, economic cooperation, economic development assistance etc. So we are really pleased to be here and we are really grateful for your welcome," he said.
Also present at the meeting was Mr. Wakely Daniel, Permanent Secretary in the Premier's Ministry who stood in for Mr. Stedmond Tross, Cabinet Secretary in the Nevis Island Administration.