SKN and Senegal bolster bilateral ties; establish diplomatic relations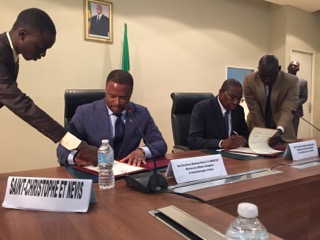 DAKAR SENEGAL (27 April, 2016) — A momentous occasion in the relationship between the Federation of St. Kitts and Nevis (SKN) and Senegal was shared in Dakar where the Foreign Ministers of both countries inked a joint communiqué, formalising ties between the two countries.
Minister Brantley, after months of concerted engagement at various levels across the respective governments, was particularly pleased to concretise the Federation`s commitment to intensified engagement with the West African country.
In a brief but powerful signing ceremony at the Ministry of Foreign Affairs in Dakar, Foreign Minister Mankeur Ndiaye signaled Senegal`s and his personal enthusiasm and willingness to bridge the African-Caribbean divide.
He used the opportunity to trumpet the cultural unity between both regions and also expressed hope for increased commerical and political linkages.
The Honourable Minister gave assurances of his commitment to the multilateral process and referenced the on-going working relationship with the Caribbean in the context of the United Nations.
The Senegalese chief diplomat thanked St. Kitts and Nevis and other Caribbean countries for their overwhelming support in Senegal`s bid to join the UN Security Council for the 2016-2017 term.
He pledged to use Senegal`s Security Council position to promote broader security issues of relevance to St Kitts and Nevis and the Caribbean, such as climate change, water management and environmental conservation.
Minister Brantley welcomed and applauded this positive step by Senegal and underlined his own inclination to pursue a positive agenda around issues of mutual advantage.
It is important to note, that the two Foreign Ministers both spoke of the need for closer regional dialogue between the Caribbean Community (CARICOM) and the Economic Community of West African States (ECOWAS) and discussed the possibility of meeting regularly at such summits to foster a sustainable partnership.
In welcoming the Senegalese Minister`s appreciation and aspirations for deepened ties, Foreign Minister Mark Brantley noted that St. Kitts and Nevis and the entire Caribbean, shares an unbreakable bond with countries on the African continent.
Minster Brantley also championed the idea of closer collaboration and cooperation in the cultural realm which would serve to heighten awareness of each other`s peoples, priorities, policies and potential.
To give life to the joint communique, Minister Brantley extended a warm invitation to his counterpart to visit the Federation in the near future.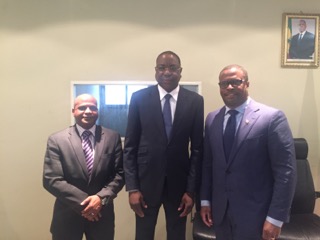 As a first step in deepening the new diplomatic relationship, both sides anticipate taking the necessary steps to conclude a reciprocal visa waiver regime in the months ahead.
Minister Brantley was pleased to be joined by his cabinet colleague, Honourable Lindsay Grant Minister of Tourism, International Trade et al, to celebrate the historic occasion for the Federation.
Minister Grant is also in Dakar attending the African, Caribbean, and Pacific Group of States (ACP)-European Union (European Union) Council of Ministers meeting hosted by His Excellency Macky Sall, President of Senegal.