SKN diplomats urge students to continue laying groundwork for future career path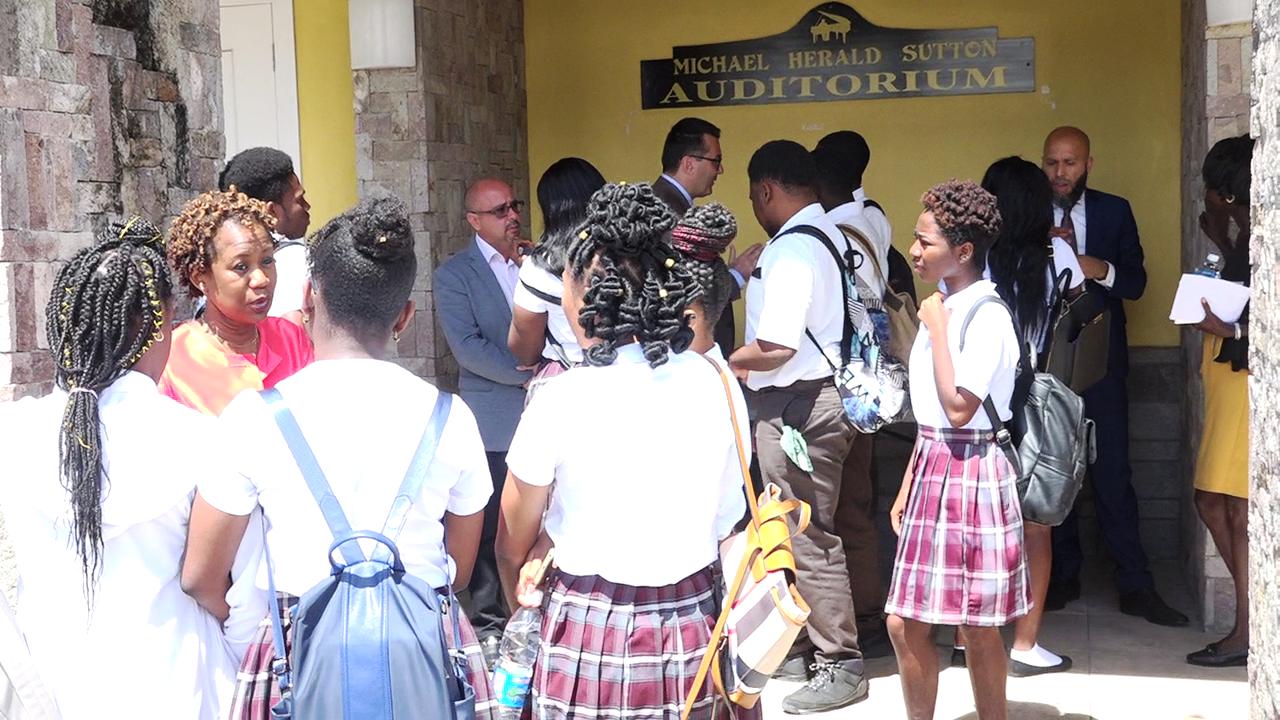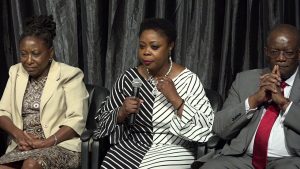 NIA CHARLESTOWN NEVIS (April 16, 2019) — Members of the St. Kitts and Nevis Diplomatic Corps encouraged students of the Nevis Sixth Form College to continue  to lay the groundwork for whatever career path they may choose and not take it for granted.
Her Excellency Sherry Tross, High Commissioner for St. Kitts and Nevis to Canada and His Excellency Dr. Everson Hull, Permanent Representative of St. Kitts and Nevis to the Organisation of American States (OAS), were among members of the delegation who met with the students at the Nevis Performing Arts Centre (NEPAC) recently, as part of Diplomatic Week 2019. The event was hosted by the Ministry of Foreign Affairs.
"I learnt in the debating club, and going on and debating people from different islands in the Caribbean and the preparation that I had to do for that, that's come in very handy in every aspect of my career whether now in diplomacy or before.
"So what you are doing here is really laying the groundwork, I think, for much of what you will do in the future. So don't take it for granted. It's really a flag call. It's going to serve you well," she said.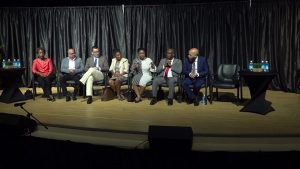 Regarding a future in diplomacy, Ms. Tross told the students that there would always be need for that field but they must be prepared to be their own agents of change.
"There will always be areas we have to work on as we build bridges between and among countries, as we build relationships, as we try to grow business and investment, work on important issues like climate change, health, non-communicable diseases (NCDs) and so on. Those are going to be there but the way that diplomacy is going to be practised by the time you do get to that point is probably going to be different.
"So what we are telling you it's like now what you are doing with the debating club. It's establishing a base because you are going to be your own agents of change, and you are going to create new architectures, new frameworks that we can't even think of now. What we are sharing, these are building blocks, and so, I hope that you internalise that and think about how these things that we are sharing can work with you and for you and for the country as we move forward," she said.
Dr. Hull, in his presentation, urged the students to become conversant on contemporary issues of the day on Nevis, and to take advantage of every chance throughout their academic career, to pounce on any opportunity dealing with a major contemporary issue which is of great national importance not only to St. Kitts and Nevis.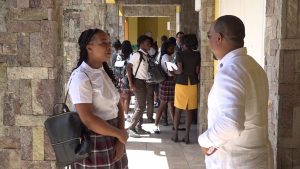 "Whatever you are working on here, do not miss the opportunity for delving in an issue that you know is going to be of major importance to St. Kitts and Nevis, and it begins right here because whatever you build on all the way up to the PhD level, and I expect all of you would be aspiring to that level, it's actually to build on those…
"So the paper you wrote at the high school level would become very important in your first and second years where you will be looking at the same issue at a higher level all the way up to the PhD, and that to me is very important.  So when you enter forums like these if you will and other sessions, you would find that, that background serves you well in being conversant, in being able to communicate effectively on the particular issue and contributing to addressing these issues," he said.
Also forming part of the delegation were Her Excellency Jasmine Huggins, Ambassador of St. Kitts and Nevis to the Republic of China (Taiwan); Her Excellency Dr. Thelma Phillip-Browne, Ambassador of St. Kitts and Nevis to the United States of America; Mr. Justin Hawley, Consul General for St. Kitts and Nevis in the United Arab Emirates; Mr. Harold Marzouka, Honorary Consul of St. Kitts and Nevis in Haiti; Mr. Matteo Forconi, Honorary Consul for St. Kitts and Nevis in Italy and Mr. Samuel Berridge, Senior Foreign Service Officer in the Ministry of Foreign Affairs, who served as moderator for the session.