SKN Minister of Foreign Affairs and Aviation signs Air Services Agreement with UAE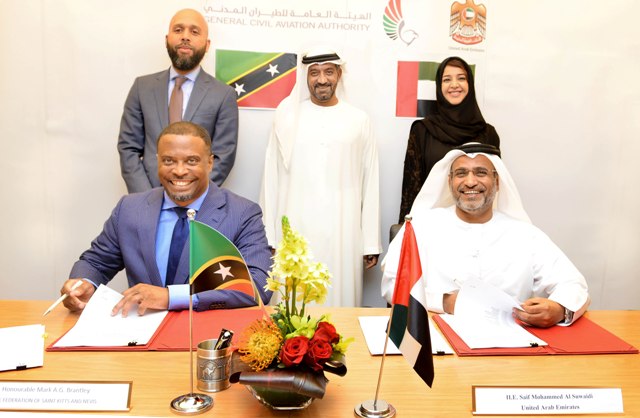 NIA CHARLESTOWN NEVIS (November 21, 2016) — The following is a press release from the Ministry of Foreign Affairs in St. Kitts and Nevis dated November 20, 2016, regarding Minister of Foreign Affairs Hon. Mark Brantley's visit to the United Arab Emirates.
Today 20th November, 2016, marked an historic day in the relationship between St. Kitts and Nevis and the United Arab Emirates (UAE), as officials of both countries met in Dubai to sign an Air Services Agreement which is intended to pave the way for future air traffic between the two countries.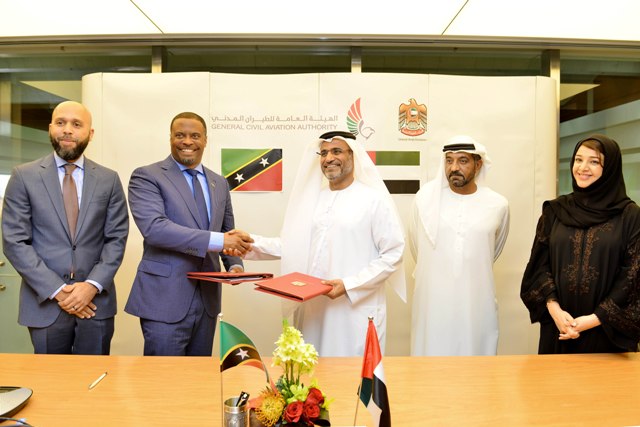 In a high level ministerial meeting before the signing, St. Kitts Nevis Foreign Minister Hon. Mark Brantley met with His Highness Sheikh Ahmed bin Saeed Al Makotoum, Chairman and CEO Emirates Airline, Dubai Aviation City Corporation, Dubai World, Flydubai, Noor Islamic Bank PJSC, Noor Investment Group, Noor Takaful General PJSC, and Noor Takaful Family PJSC and Her Excellency Reem Ebrahim Al-Hashimi, Minister of State and Cooperation and Managing Director for the Dubai World Expo 2020 Bid Committee to discuss a wide range of issues centred around the deepening and broadening of relations between St. Kitts and Nevis and the UAE.
In addition to airlift between the UAE and the Caribbean, the Ministers discussed St. Kitts Nevis' participation in Dubai Expo 2020, mechanisms for St. Kitts and Nevis to access the UAE's US$50 million Caribbean Development Fund, the establishment of a St. Kitts Nevis Embassy in Abu Dhabi to complement the work of its consulate in Dubai, and the provision of much needed scholarships and training to St. Kitts and Nevis youth, particularly in areas such as tourism and other service sectors.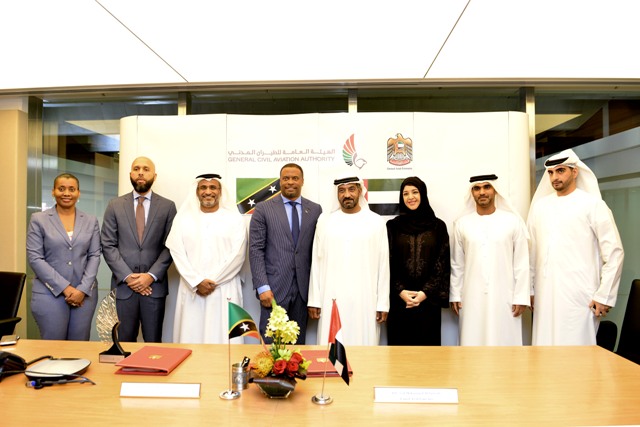 Minister Brantley, will hold additional talks with UAE officials whilst on a brief visit. He is scheduled to sign additional agreements including a Double Taxation Agreement, an Investor Protection Agreement and a Visa Waiver Agreement.
The Affairs Foreign Minister is accompanied by St. Kitts Nevis Consul General Justin Hawley and Deputy Consul General Elsa Wilkin Armbrister.