St. Eustatius official expresses satisfaction with Nevis visit
NIA CHARLESTOWN NEVIS (April 04, 2023) — An official from the Ministry of Agriculture on Nevis is describing a meeting between a two-member team from the ministry and a visiting delegation from St. Eustatius as fruitful.
Mr. Huey Sergeant, the ministry's permanent secretary, who accompanied Hon. Eric Evelyn, Minister of Agriculture at the meeting on March 30, 2023, made the comment while updating the Department of Information on the outcome on April 04, 2023.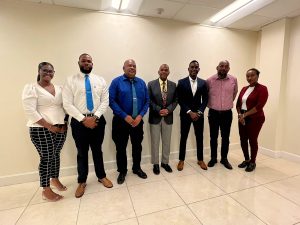 "The meeting went very well. We discussed matters that tied our islands historically and along familial relations.  There is an ongoing relationship between the departments of agriculture where some trade happens.  There was an interest in further strengthening that relationship to the extent that a memorandum of understanding (MOU) was proposed.
"Currently there is a very high demand for goat meat on Nevis and an excess of goats on Statia, so that's one area of trade that is ready to go.  We discussed exchanges in expertise both at the abattoir and shade house production," he said.
Meantime, Mr. Anthony Reid, Director of Economy, Nature and Infrastructure (ENI) in St. Eustatius, who was a part of the delegation shed light on the delegation's reason for visiting the island and what they hoped to accomplish.
"It is my second Agri Expo here on Nevis, and the first one I visited just before COVID, gave me the impression that you guys are busy doing something that is good, and we also mirror that and say 'Hey, that's something that we can do on St. Eustatius.' So first we came for the experience to see, you know, how things are being arranged. We also know that where agriculture is concerned there's a lot of investment in capital, in human resources in Nevis, and we also would like to see how well you guys have progressed over the past years, and also how did COVID impact the agriculture sector…
"We would like to just make it known that we intend to send a letter of intent to the Ministry of Agriculture to sign an MOU within the short future and we have some special topics that we would like to collaborate on with Nevis," he said.
Regarding his impressions of Agri Expo 2023, Mr. Reid registered satisfaction with the agriculture experience.
"I was also quite impressed this morning when I walked along the different booths and I walked across the booth of the abattoir and I saw they were selling goat meat and beef, and I know that some of that came from Statia as well, so we already have that trade cooperation between both islands so that kind of really gave me a good feeling, and also, we have pledged under our EU multi-annual indicative programme to invest in agriculture.
"So we intend to actually, you know, propel our agricultural sector and hopefully we can also provide some exchange of expertise with Nevis. We can also provide some access to possible funding as well, if that's a possibility and hope we can have collaboration in all different aspects," he said.
The delegation was headed by Mr.  Derrick Simmons, Commissioner with the portfolio for Agriculture and Fisheries. Also forming part of the visiting team were Ms. Sharon Veira, Manager of Unit Veterinary and Island Veterinary Officer; Sabrina Richardson, Administrative employee at the Department of Agriculture; and Mr. Vaughn Sams, Political advisor to Commissioner Simmons.