St. Kitts and Nevis Circle of Care donates literature on Alzheimer's disease to NIA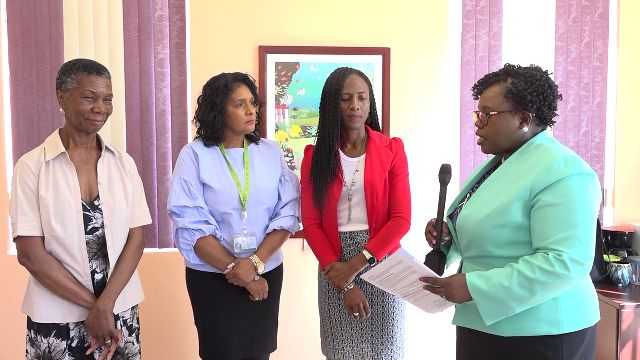 NIA CHARLESTOWN NEVIS (March 11, 2019) — The Health Promotion Unit in the Ministry of Health on Nevis is now in a better position to disseminate facts pertaining to Alzheimer's disease thanks to a donation from the St. Kitts and Nevis Circle of Care based in Toronto, Canada.
The gift of health literature was handed over to Hon. Hazel-Brandy Williams, Junior Minister of Health by Ms. Jeanette Maynard on behalf of the organisation, at the Ministry of Health office in Charlestown on March 07, 2019.  In response, the minister thanked the organisation for the timely gesture.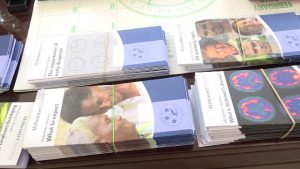 "Thank you very much on behalf of the Nevis Island Administration, the Senior Minister of Health the Hon. Premier and all the technicians in the Ministry of Health for this very timely gift of literature with regards to Alzheimer's.
"We are aware that there has been an increase in the number of cases that are being detected annually in Alzheimer's, and we are also aware that the cases are being found in even younger and younger persons, and so it is time for us to equip ourselves with the necessary information so that persons could know what signs to look for in family members or even themselves and what symptoms, and what they can do to prolong good thinking habits and a healthy and productive life," she said.
Ms. Maynard noted that her organisation decided on that specific gift in light of the increase incidents of the disease and approached the Alzheimer's Society in Toronto for the material to present to the Ministry of Health on Nevis.
The Minister handed the literature to Mrs. Shelisa Martin-Clarke, Acting Permanent Secretary in the Ministry of Health. In response, she acknowledged the increase in the incidence of Alzheimer's disease in the Federation and thanked the organisation for the timely gesture.
"We are aware that we have a growing aging population in the Federation and Alzheimer's is one of those mental health illnesses that we often see within our elderly population.
"I know that this information would be very useful. It would be used in the Health Information Unit who is charged with the responsibility for promoting health well-being as well as educating the population of the various illnesses that are plaguing the Federation so I would like to say thank you," he said.
Alzheimer's disease is a progressive disorder that causes brain cells to waste away (degenerate) and die. Alzheimer's disease is the most common cause of dementia – a continuous decline in thinking, behavioural and social skills that disrupts a person's ability to function.