St. Kitts Nevis delegation to Republic of China (Taiwan) meets with St. Kitts/Nevis nationals studying there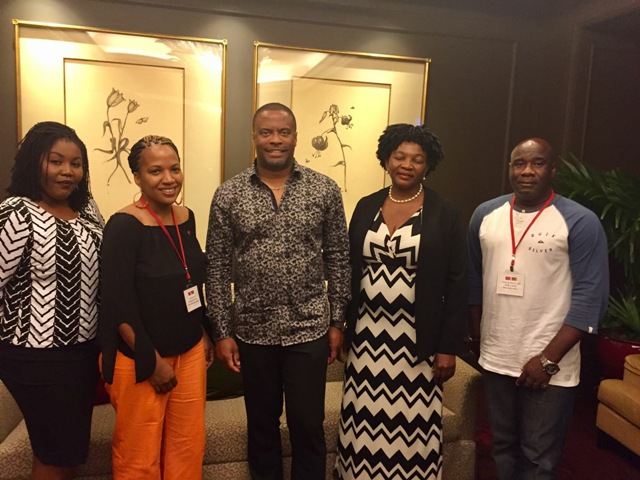 CHARLESTOWN NEVIS (AUGUST 23, 2017) — The following is a press release from the Ministry of Foreign Affairs dated August 22, 2017).
Students and nationals living and studying in Taiwan had the opportunity on August 21, 2017, to interact with the St. Kitts Nevis delegation at a dinner jointly hosted by MOFA and the Embassy of Saint Kitts and Nevis in the Republic of China (Taiwan). Medical practitioners who are currently in Taiwan as part of the renal medical project also joined the delegation.
Head of delegation, Hon. Mark Brantley, Minister of Foreign Affairs and his counterparts Honourable Eugene Hamilton, Federal Minister and Honourable Alexis Jeffers in the Nevis Island Administration, took time from their busy schedule to meet with students and nationals living and studying in Taiwan.
"Our people are our primary resource and we must seek every available opportunity for their training and development," Minister Brantley said.
The delegation expressed particular delight in the health professionals being trained in aspects of renal care, under a programme supported by Taiwan, to provide training and equipment to St. Kitts and Nevis to treat renal disease and also to promote healthier lifestyles to prevent the high incidences of non-communicable diseases within the Federation.
Minister Hamilton who has Federal responsibility for Health and Minister Brantley who has responsibility for Health in Nevis, both commented on the critical need for this renal project.
The students and nationals of St. Kitts and Nevis, expressed their appreciation for the opportunity to meet with the delegation and their warm appreciation for the training opportunities afforded them by the Government and people of the Republic of China (Taiwan).