The 2012 Nevis Culturama Committee presents Ms. Culture Swimwear contestant number five, Miss Oualie Masonry Products Roslyn Berkeley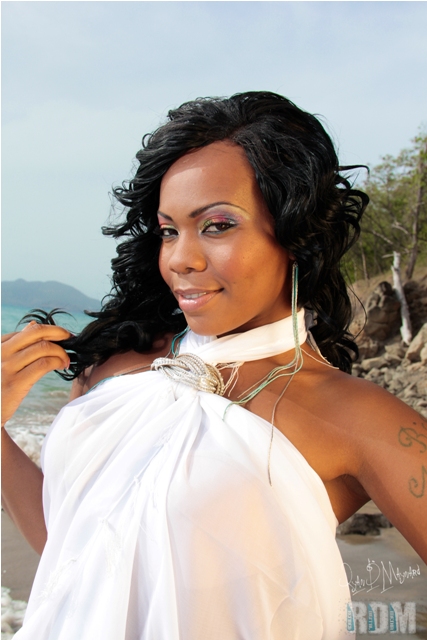 Miss Oualie Masonry Products, Roslyn L. Berkeley, resides at Main Street, Halfway Tree, St. Kitts. She is the daughter of Brian and Joan Berkeley and the sister of Jomal K.D Berkeley.
This former Ms. Culture Queen Pageant contestant is the mother of a toddler, Unique Berkeley.
Roslyn's talent and dedication proved evident when she founded Divine Hair Creations and Divine Model Agency. Presently, she is the manager of both companies. While focusing on her personal motto "Never Give Up," this young entrepreneur has hopes of opening a clothing store and designing her own clothing line.
Among Roslyn's many accomplishments is the attainment of two certificates in cosmetology and one certificate in secretarial studies.
With a love for modeling, dancing and pageantry, it is no wonder that this seasoned model has entered numerous pageants and competitions including Ms. Guyfest, Easterama, Saddlefiesta, Ms. PAM, Ms. Blacksan, Lifestyle Calendar, the Wet and Wild Swimwear Contest, Ms. Labour, Ms. Venus Swimwear, Clash of the Queens, the Ms. Culture Queen Pageant, and the Fourth Knocks Swimwear Competition.
Roslyn is determined, a trait she inherited from her role model, her mother, who she also describes as "a strong woman."
Roslyn's chaperone in this year's Ms. Culture Swimwear Contest is Dwayne Weekes.
You are invited to the Nevis Cultural Complex on Sunday 29th July 2012 to see Miss Oualie Masonry Products Roslyn Berkeley vie for the 2012 Ms. Culture Swimwear title.