Tourism Minster pleased with progress at Hamilton Beach Villas and Spa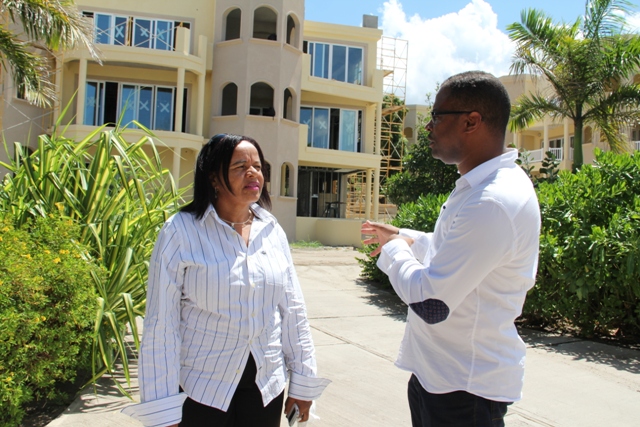 NIA Charlestown Nevis (March 13, 2014) – Deputy Primer of Nevis and Minister of Tourism the Hon. Mark Brantley, during a tour of the Hamilton Beach Villas and Spa at Cotton Ground, commended the property's General Manager for their advancement in its expansion since his last visit there eight months ago.
These sentiments came after Mr. Brantley toured the Hamilton Beach Villas and Spa on March 04 2014, with General Manager Patricia Jeffers and stated he was impressed with the work done on the project.
"We were here about eight months ago and I am really impressed with the improvement I've seen. The fact that most of these buildings now are virtually complete and the finishing touches are now going on," he said.
In an interview with the Department of Information at the Hamilton Beach Villas and Spa, Jeffers outlined the project's achievements.
"At the moment we have approximately four of the five front blocks that are completed. As a matter of fact, the whole development is actually going to be 10 blocks and each block would consist of approximately eight rooms…all of the villas have three floors. You have most of our one bedroom units on the first floor and we have two-bedrooms and some villas have three bedrooms going upstairs," she said.
"My staff and I, which is approximately 15-20 at the moment and of course it will grow because as the business grows, we would need other workers for example, bellmen, and people to take care of concierge services so that they [our guests] can enjoy some of the activities on the island," she said.
Jeffers stated that with completion of the front section of the project, most of the villas were booked for the 2014 tourist season.
"In the front section we have almost all of the rooms completed and we have guests that are in-house. We have some bookings from tourists that are coming in to spend some time and enjoy our island," she said.
Meantime, Jeffers congratulated Mr. Dion Daniel on his developments on Nevis and for winning the accolade of Developer of the Year in 2013.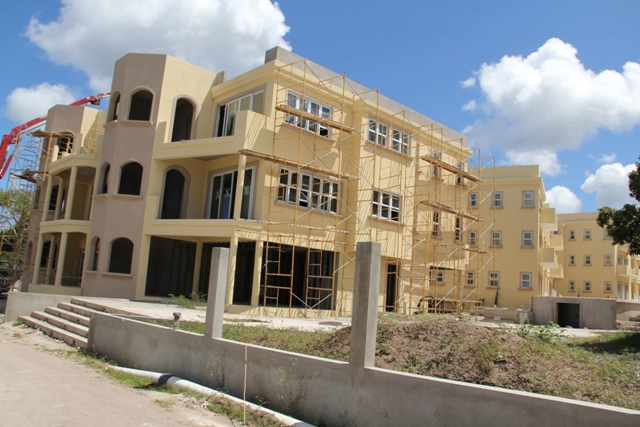 "I saw it in the media, last year in October, this development was rated number one waterside property in the Caribbean and I think that was by the World Caribbean Travel Awards or Tourism Association and Dion Daniel was awarded developer of the year. That is a very great achievement for Nevisians and especially being that young. We should all be very proud of him," she said.
Mr. Brantley joined with Jeffers in congratulating Mr. Daniel on his achievements and his contribution to Nevis through his tourism related developments.
"We join you in being proud of Dion and what he has achieved to date…He is the person who is behind this project and the project at Nelson Spring but also who has done other projects like Fern Hill and those developments as well, a local boy from Barnes Ghaut and for me, that is important because it tells us that our own people can achieve whatever they set their mind to," he said.