Lester Blackett: Two Tropical systems bearing down on the Caribbean & Leewards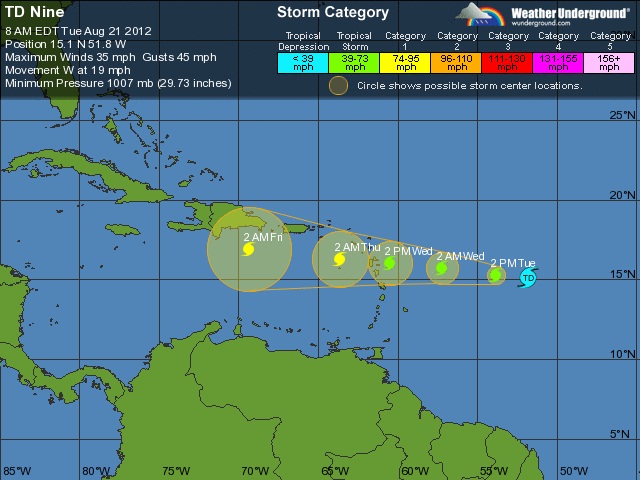 FOR YOUR URGENT INFORMATION & ATTENTION
Kindly note the following information concerning two Tropical systems bearing down on the Caribbean. Detailed information on these systems are available at www.nevisdm.com and on the Nevis Disaster Management Department Facebook Page.
If necessary, an Emergency Meeting for CRITICAL AGENCIES & INDIVIDUALS will be called on Tuesday 21st August at the Nevis Disaster Management Department (NDMD) at Long Point. Persons will be contacted by email and phone, if necessary.
RESIDENTS OF THE LEEWARDS ISLANDS SHOULD TAKE NOTE AND MONITOR THIS TROPICAL SYSTEM CAREFULLY AND BE PREPARED TO TAKE ANY URGENT & NECESSARY ACTIONS – THE SYSTEM WILL REACH THE LEEWARDS BY WEDNESDAY.
"A WELL-DEFINED LOW PRESSURE PRESSURE IS LOCATED ABOUT 725 MILES EAST OF THE LESSER ANTILLES. THUNDERSTORM ACTIVITY HAS INCREASED AND BECOME BETTER ORGANIZED NEAR THE CENTER DURING THE PAST SEVERAL HOURS. IF THIS RECENT DEVELOPMENT TREND CONTINUES…THEN A TROPICAL DEPRESSION COULD FORM LATER THIS (TUESDAY) MORNING. THIS SYSTEM HAS A HIGH CHANCE…NEAR 100 PERCENT…OF BECOMING A TROPICAL CYCLONE DURING THE NEXT 48 HOURS AS IT MOVES WESTWARD AT 20 TO 25 MPH. THIS LARGE DISTURBANCE COULD REACH THE LESSER ANTILLES BY WEDNESDAY…AND INTERESTS IN THAT AREA SHOULD CLOSELY MONITOR THE PROGRESS OF THIS SYSTEM SINCE TROPICAL STORM WATCHES COULD SOON BE REQUIRED FOR PORTIONS OF THOSE ISLANDS."
ALSO, "A WELL-DEFINED LOW PRESSURE SYSTEM ASSOCIATED WITH A TROPICAL WAVE IS LOCATED ABOUT 380 MILES SOUTHWEST OF THE CAPE VERDE ISLANDS. SHOWERS AND THUNDERSTORMS CONTINUE TO SHOW SIGNS OF ORGANIZATION…AND FURTHER DEVELOPMENT OF THIS DISTURBANCE IS POSSIBLE OVER THE NEXT FEW DAYS. THIS SYSTEM HAS A MEDIUM CHANCE…50 PERCENT…OF BECOMING A TROPICAL CYCLONE DURING THE NEXT 48 HOURS AS IT MOVES WESTWARD AT ABOUT 15 MPH."