Tyzena Brookes honoured at Nevis' 23rd Annual Agriculture Open Day for long; dedicated service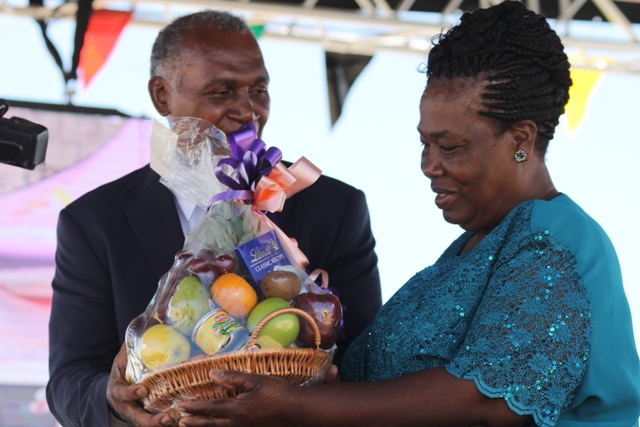 NIA CHARLESTOWN NEVIS (MARCH 30, 2017) — Ms. Tyzena Brookes of Brown Pasture, is the Department of Agriculture's 23rd Annual Agriculture Open Day Patron. Brookes 63, was recognised for her outstanding contribution to the department for the past 22 years.
She was presented with a plaque, a bouquet of flowers and a fruit basket by Premier of Nevis Hon. Vance Amory, at the opening ceremony of the two-day event on March 30, 2017. It was held at the Villa Grounds in Charlestown with the theme "Embracing Climate Smart Agriculture to achieve Food Security."
In response, Brookes later told the Department of Information that she was pleased for the public recognition of her long service to the department and expressed her love for agriculture.
"Without working you cannot get nothing to eat. So you have to work for what you want. It is fun working. I love to work. I love to plant but my most import thing is I love weeding.
"I know it is a hard work because a lot of people don't want their hands dirty but it is a pleasure working because without working, you can't get no food to eat," she said.
Brookes' tenure began at the government-owned farm at Prospect as a field worker. She eventually worked at Hardtimes, Indian Castle, New River, Potworks and Cades Bay, all estates owned by the Nevis Island Administration (NIA). Her duties included planting, weeding and harvesting crops. She also had the opportunity to specialise in seedling production.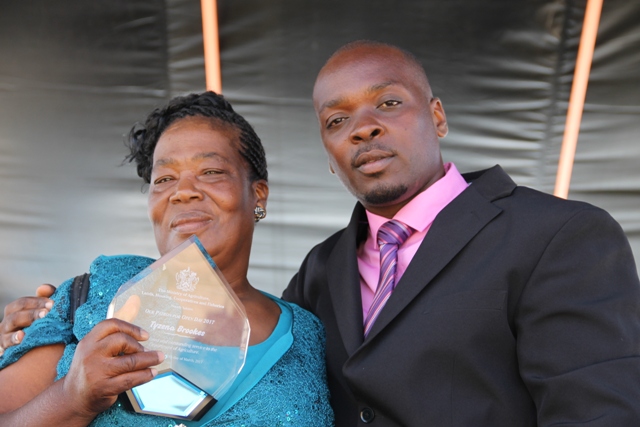 Meantime, Eric Evelyn, Permanent Secretary in the Ministry of Agriculture, in his opening remarks thanked Brookes for her long, dedicated service and outstanding contribution to the department. He described her as a hard working woman and a single mother who has successfully raised five children.
Other remarks were made by Premier of Nevis Hon. Vance Amory, Minister of Agriculture Hon. Alexis Jeffers, Hon. Charles Woodley, Commissioner of Agriculture in St. Eustatius, Mr. Acting Director of Agriculture on Nevis Randy Elliott, and Mr. John King, Inter-American Institute for Cooperation on Agriculture (IICA) Representative for the Eastern Caribbean States.
The event showcases the progress made by the Department in the past year, in the areas of crop and vegetable farming, veterinary services, fisheries and agro processing. It also provides an opportunity for farmers, artisans, agro processors and those involved in culinary arts, horticulturists and Allied Agencies to display and make their products available to the public.
Among those present were National Hero The Right Excellent Dr. Kennedy Simmonds, Deputy Premier of Nevis Hon. Mark Brantley, Leader of the Federal Opposition Hon. Dr. Denzil Douglas, Junior Minister in the NIA Hon. Troy Liburd, Hon. Clyde I. van Putten, Leader of Government of the Public Entity of Saint Eustatius, Hon. Richeline Leerdam, Island Council Member, Mr. Anthony Reid, Unit Manager of Agriculture in St. Eustatius, Hon. Michael Perkins Speaker of the National Assembly and Hon. Farrell Smithen Speaker of the Nevis Island Assembly.