Uhral St. Clair Swanston Highway is official; road named after local hero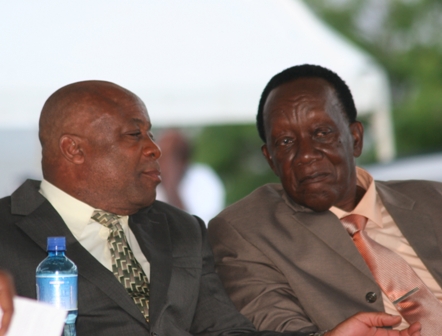 Minister of Social Development in the Nevis Island Administration Hon. Hensley Daniel (l) and local hero Mr. Uhral St. Clair Swanston during the official road renaming ceremony from the Island Main Road from Market Shop to Zion to the Uhral St. Clair Swanston Highway
CHARLESTOWN NEVIS (August 27, 2010) — The stretch of road from Market Shop in Gingerland to the end of Zion Hill was officially renamed the Uhral St. Clair Swanston Highway on Thursday in honour of pioneer politician and businessman from Zion Village Mr. Uhral Swanston. He served Nevis with distinction during and after his tenure in the Federal Government in the 1970's and as an outstanding businessman.
The renaming ceremony was the eighth to be hosted by the Ministry of Social Development in the Nevis Island Administration (NIA). Under that initiative, a number of landmarks on Nevis were renamed after local heroes who had contributed in a range of areas to the development of Nevis.
In his remarks at the ceremony which was attended by a cross section of Nevisians, Minister of Social Development Hon. Hensley Daniel said the renaming in honour of Mr. Swanston was an act with was pregnant with significance.
"For him it is a small and insignificant act, for the rest of us especially the young, it is of the highest significance. It says to the young that with sacrifice, selflessness and service to God and country, you can climb new heights and decorate your life with laurels.
"We are pleased then to say that Swanston is a true patriarch. We are more pleased to say to all that the lives of great men all reminds us we can make our lives sublime and departing leave behind us footprints in the sands of time," he said.
The Minister noted that Mr. Swanston's life in politics had been marked by his service. A founding member of the Nevis Reformation Party, Mr. Daniel referred to him as the voice of the political party in and out of government.
"He was the embodiment of the Ministry of Communication in both St. Kitts and Nevis. His first name was roads; his second name was water. He attacked his task with missionary zeal. He went to the source and he often found water in even in desert places.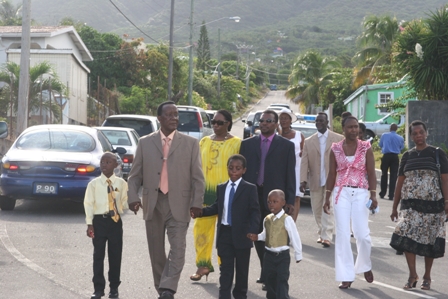 Local Hero and Honouree Mr. Uhral St. Clair Swanston with his grand children in hand lead other family members to the site of the road renaming ceremony in his honour at the bottom of Zion Hill
"He also with his party paved roads with woefully inadequate funds. The people of Nevis were his initial focus. The people of Gingerland saw more of him than the rest of the island. His service to God, party, man, church and country in the face of personal and family peril has for us become legendary. It says to us we cannot mope, moan and mourn about where life shadows cast us, we must of necessity rise up and serve humanity," he said.
Mr. Swanston's sacrifice in the field of politics, according to the Minister, was reflected in the knowledge that he had come to and stayed in politics while he sired eight children with his wife now departed. Mr. Daniel referred to politics as a drain on one's finances, friends, fraternity but more so one's family life.
"In our honouree's era, he has had to leave his home to encamp with the men he fought with in the cause of Nevis. His family had to endure all kinds if personal inconveniences as he struggled to keep Nevis afloat.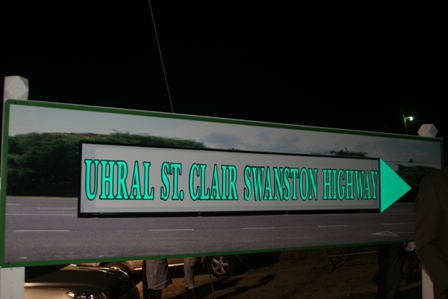 The new road sign which carries the name of local hero and Zion Businessman Mr. Uhral St. Clair Swanston after it was unveiled by the honouree. The sign is erected at the bottom of Zion Hill
"They endured army, political ridicule and all sorts of hurt. It is no joy to have young children face soldiers around your house day and night in the fight to free Nevis and make a better life for all. Swanston ran a little shop in those days. He had to support a large family. Those days Local Counsellors made a whopping $40 a month. Politics is a game that needs financial sacrifice. Swanston made all that out of his penury," he said.
According to the Social Development Minister, Mr. Swanston's selflessness through the years had been wide open for the world to see. Today at the dusk of his life, the honouree boasted no apparent wealth or none that anyone could trace to corruption from his years of service in government. He said the honouree had taken no estate from the government and all his children were self employed.
Mr. Daniel also pointed to the fact that Mr. Swanston continued to go about his daily life like an ordinary Nevisian working, laughing and loving.
"Swanston is one of those rear breeds of political servants who have been in opposition and government, who can truthfully say and prove before God and man 'my hands are clean'. He came to politics with family, friends and fortitude, he will leave the same. I am to hope that those who are coming behind him will see and emulate his selflessness," Mr. Daniel said.