"We have much to offer" – Nevis Sixth Form College Graduating Class of 2017 Valedictorian tells fellow graduands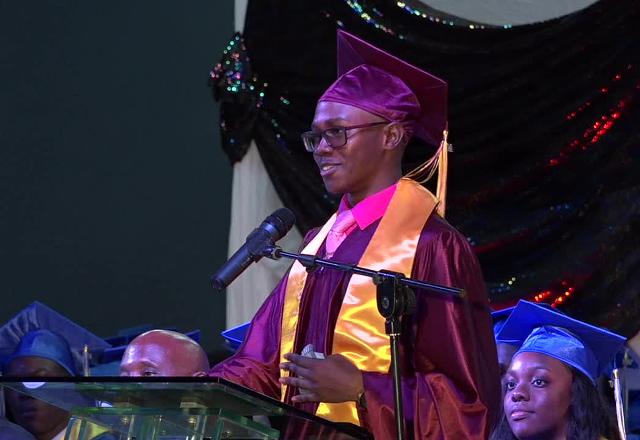 NIA CHARLESTOWN NEVIS (November 16, 2017) – Mr. Cheslin Maloney, Valedictorian of the Nevis Sixth Form College Graduating Class of 2017, told fellow graduates they have much to offer the world and he envisions success in their future.
Mr. Maloney addressed his 60 fellow graduands at the Charlestown Secondary School and the Nevis Sixth Form College Graduation and Prize-giving Ceremony on November 15, 2017, at the Nevis Cultural Complex. The theme was "Integrity: The cornerstone of character building."
"I know even though others may not believe so, we as a generation have so much to offer to the world. I believe that we will all accomplish much and uplift others, ourselves, our country and the human race and I could not be more thrilled as I envision our successes in the future.
"Fellow graduates, it is my fervent hope that as we thrust into the future, each and every one of us will do well," he said.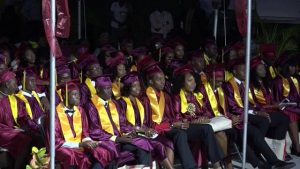 Maloney, who topped the Caribbean Advance Proficiency Exam (CAPE), told his fellow classmates that they should see their graduation as validation for the two years at the college, describing it as a greatly enriching experience.
The top student thanked his fellow graduands for contributing to his success and for making him a better student and person in the process.
Maloney, stated that although he did not have wise words of his own to offer, he urged his classmates to not let precious moments pass by because they are engrossed in their phones. "Life begins when they put their phones down," he said.
As far as failure is concerned, he noted that everyone is expected to experience failure at some point in their life. He encouraged them to push to new beginnings if it happens to them in the future and to use the opportunity to learn because failure it is not a death sentence.
He also reminded them of the need to mind their manners and encouraged them to make it a habit of using the words "please", "thank you", "good morning", "good afternoon" or simply "hi" or "how are you?" Good manners, he emphasised, is a valued currency anywhere and everywhere.
Lastly, Maloney also urged his fellow graduands to connect to God, who he referred to as "the power source" because everything is possible at his feet.
The Valedictorian, thanked family and friends of all the graduands for their unwavering love, emotional and financial support. He also used the opportunity to publicly recognise their teachers and registered their indebtedness for patiently enthusing them with knowledge and information. He said they pledged to pass on what they have been taught and to give what they have received.
He singled out the contribution of his beloved parents in particular his mother Lindetha Maloney, his grandmother Vera Maloney and his godparents, who he said by the grace of God, love, guided and supported him along the two-year journey.