William "Bully" Perkins pleased with Social Security's recognition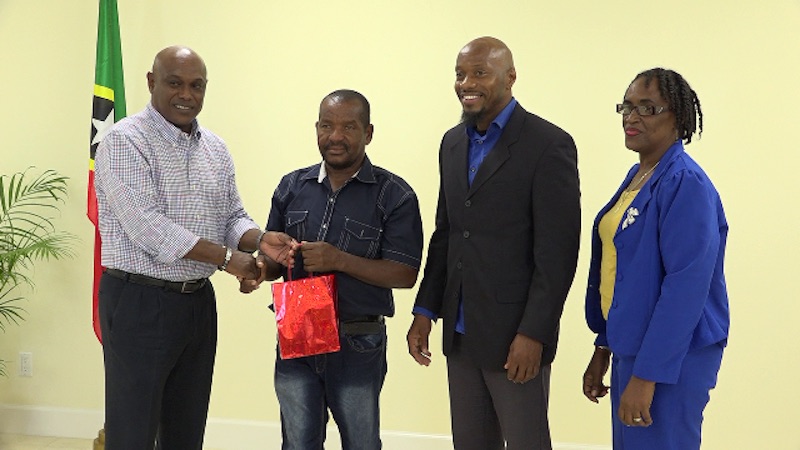 NIA CHARLESTOWN NEVIS (May 23, 2018) –A few days after he was recognized by the St. Christopher and Nevis Social Security Board, Nevis Branch for his interest and care of a vehicle donated to the ministry 13 years ago, Mr. William "Bully" Perkins a driver and messenger with the Ministry of Health on Nevis says the gesture was pleasing.
He was presented with a token of appreciation by Mr. Vernel Powell, Assistant Director of the Board, at a ceremony at their Nevis office at Pinney's Estate on May 18, 2017,  to hand over a new vehicle to the Ministry.
"I feel good because when I do anything I always do my best. I try to take care of the bus. I take my time when I am driving it. I make sure I do the right thing. I don't take chances. When I am driving I am always careful," he told the Department of Information on May 23, 2018.
Mrs. Nicole Slack-Liburd, Permanent Secretary in the Ministry of Health, acknowledged Mr. Perkins and thanked him on behalf of the ministry for the contributions he continues to make there.
In a profile presented on behalf of the Ministry of Health by Ms. Junella Burke, Administrative Assistant, Mr. Perkins is described as one who cares for the vehicle and is a courteous and reliable driver who has with an excellent driving record.
"He makes the safety of all personnel travelling on the bus a priority and takes great pride in keeping the vehicle clean and in good working condition.
"He often does his routine vehicle checks, making sure the engine oil and water is in order and from time to time, he would come to the main office and say 'lights on in ah you bus. If ah you no want gee me no gas, old Betsy (his car) working still' or 'come ah show ah you some ting, indicating the bus wanted tires," she said.
Ms. Burke stated that the Ministry of Health is grateful to Mr. Perkins for his many years of dedicated service particularly in the area of Public Health and applauded his commitment to his job.
Mr. Perkins is also charged with providing courier service, delivering supplies to health centres throughout Nevis, providing a shuttle bus service for Community Health Unit in relation to activities for their diabetic groups etc. He also assists the Health promotion Unit in outreach activities, the Dental Unit and any other duties assigned to him.