Work on new Charlestown Public Market progressing satisfactorily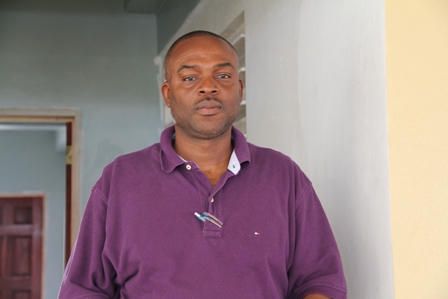 NIA-CHARLESTOWN NEVIS (August 15, 2011) —
Work on the Charlestown Public Market continues in earnest a senior official in the Ministry of Communications and Works expressed satisfaction with the progress of the project which commenced in January.
During a site visit on Friday, Director of Project Mr. Denzil Stanley told the Department of Information that the Ministry was pleased with the work done.

"We are very much pleased with what has been produced here so far. The contractor Mr. Meredith Hendrickson has done a marvellous job at renovating this structure and we at the Ministry of Communication and Works are pretty much pleased with what has been happening so far," he said.
According to Mr. Stanley, the project took root when the Nevis Island Administration responded to the need for an upgraded facility but explained that there had been some setbacks since the project commenced.
"The project started in January and should have been completed as per scope of works. Along the way we met some hindrances, the major one is that the room which was a storage room, it was not a part of the original scope to be touched but it posed a problem with the roof of this building it was basically, putting it simply, in the way of the works," he said.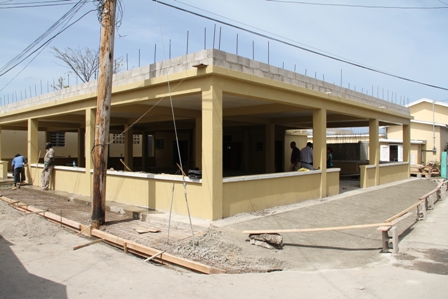 A decision was then taken after discussions and an onsite meeting with the Minister of Agriculture Hon. Robelto Hector and his Permanent Secretary Dr. Kelvin Daly, that renovations would be done to the storage room to accommodate the original scope of works for the market. Mr. Stanley said that was the major setback with the project but it was understandable in order to get what needed to be achieved.
With regard to the new facility, the Projects Director was of the view that it would be much more comfortable for the vendors.
"Previously you would have seen what was there before was a bit congested. I have not seen the layout in terms of how it's going to be laid out for the individual vendors but as I said, I believe it's going to be something that is more comfortable for the vendors, more appealing, more accommodating for them and not just the vendors even for the buying public too.
"They should be happy when coming by to get their produce in a much more comfortable area," he said.