Work on the Residence at Tamarind Cove and Marina Project heading for 2015 tourist season finish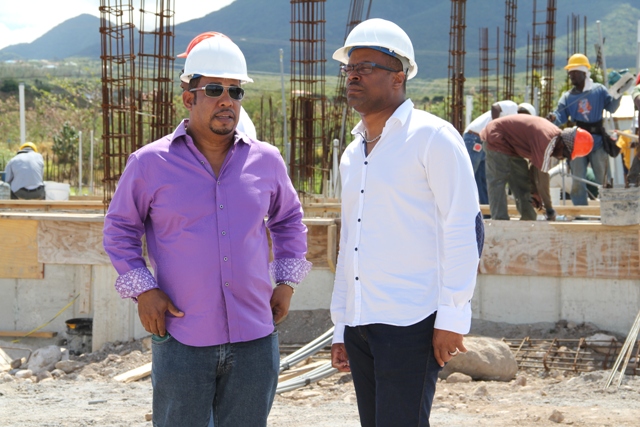 NIA CHARLESTOWN NEVIS (March 13, 2014) — Work at the Residence at Tamarind Cove and Marina Project continues apace and the project's Managing Director and local investor Greg Hardtman said two buildings would be completed by the end of the month and by the end of the year six will be completed. Construction of a seventh building would begin in April.
Mr. Hardtman made the disclosure in an update on March 04, 2014, while he and his team led Deputy Premier of Nevis and Minister of Tourism Hon. Mark Brantley on a tour for a second visit to the construction site, where more than 100 persons were employed.
"We have six buildings currently under construction. We have approximately 82 workers on the site. That does not include all the sub-contractors. We have about six different sub-contractors and that total easily goes over the 100 mark.
"We are hoping to have all these buildings completed and fully operational by the start of the next tourist season, all six buildings. The seventh building will be starting in the next month and a half or so but we are not going to be operating until the full marina has been completed but we would be able to at least house people if they so desire," he said.
According to Mr. Hardtman, work was also being done in readiness for the start of the marina segment of the project.
"On the waterfront we are hoping to get all the due diligence out of the way so that we can start the Marina Project itself by June/July of this year. We are actually bringing a lot of people to the site right now. We have electricians, plumbers the whole nine yards. So essentially this is where we are. In a nutshell we are hoping to get the marina side of things.
"I know a lot of questions are being asked about that repeatedly but public consultation on the marina component will come in the next month or so led by Ms Janice Daniel-Hodge. Hopefully, once everything goes according to plan, we are hoping to start actual construction of the said marina by June/July of this year and that will employ a whole different group of people. So these 82 will have nothing to do with that 50 plus that will probably be employed over there. So by the time the whole site is going, we will have in excess of 130 to 150 people working here [entire project]," he said.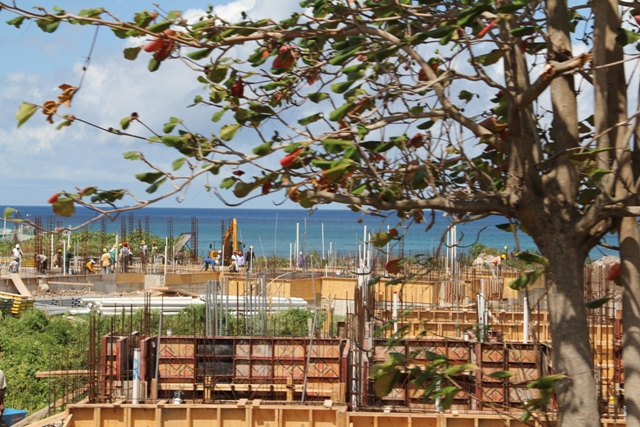 On completion of the project, there will be an added 126 rooms on Nevis in a residence type hotel. Hardtman explained that no decision had yet been taken as to whether the property would be operated independently or as a brand name hotel.
Mr. Hardtman used the opportunity to thank his management team Project Foreman Linel Amory, Project Manager Vaughn Walters and Assistant Project Manager Laughton Browne whom he said had been doing an excellent job on the project.
Meantime, Mr. Brantley said he was pleased to hear the sound of hammers and machinery on the project because it was an indication that things were happening on the project and used the opportunity to reiterate his commitment to the project.
"I am very impressed with what I am seeing I like to hear the sound of hammers and machinery going, that means that things are happening and so I am very happy to see what you are doing and I want to commit, as I have always done, to do whatever we can do to partner with the project to make the project viable to make it move forward," he said.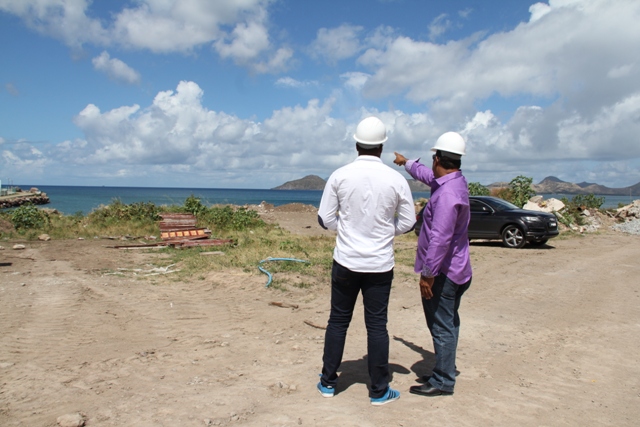 The Tourism Minister also registered his satisfaction with the news that the project was scheduled to be complete in time for the next tourism season.
"I am particularly pleased to hear that we are talking about the possible of its opening in time for the next season. We have Culturama coming up and one of the complaints we are getting already is rooms. People are already having a difficulty finding places to stay and so, I am hopeful that in the future, projects like that coming on stream will alleviate that problem.
"I think it gels very nicely with what we are trying to do with additional air lift; additional hotel rooms we like when it all comes together. So we want to thank you for all that you are doing here and your team," he said.
Mr. Brantley said there was the need for persons on Nevis to appreciate the work that was going on with regard to tourism, and the revenue and employment it generated all of which were important to the island's economy. He wished the project well and continued success.